13 maggio 2010
4
13
/

05
/

maggio
/

2010
17:00
Se avete ospiti o semplicemente volete una tavola per voi e la vostra famiglia che sia invitante , si può rendere speciale anche con piccoli particolari come una BURRIERA .
Eccone alcune simpatiche , classiche, colorate , eleganti , moderne per fare di un normalissimo "burro e marmellata" per colazione, qualcosa di speciale .
Dalla rivista U.S.A. , Country Living , alcuni suggerimenti.
If you have guests at home, or simply you want your table more attractive for you and your family, you can add something unsual or special as a new butter dish . Here are some funny, classic, elegant , modern to turn your "standard" breakfast or lunch table , unusual and quite special.
Some of these butter dishes are taken from Country Living , US magazine while some are from Italian and French leading companies in china and stainless steel items.
Si vous avez des hotes ou bien seulement pour rendre votre table insolite et invitante, il suffit d'ajouter quelque chose de special comme un nouveau beurrier .Et votre petit dejeuner ne sera pas si "standard" mais vraiment special.
Voilà quelques exemples sympas , classiques, elegants, modernes, pour changer le debut de votre journée !
Ces pots à beurre viennent du magazine américain Country Living et d'autres qui sont exemples de production Italien et Française .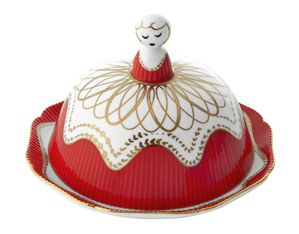 Graziosa signorinella in rosso /Charming lady in red /jolie demoiselle en rouge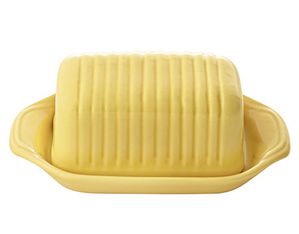 Una burriera ad anelli tornata di gran moda Ringware butter dish still on fashion / beurrier à anneaux, à la mode
Design : 1932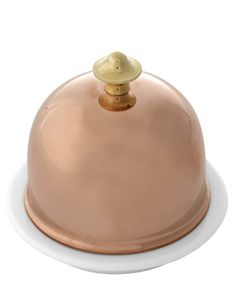 Burriera in lega di rame leggeraper servire due persone/this petite-size butter dish serves 2 for breakfast and made in light copper league/Beurrier tout petit pour 2 personnes en cuivre leger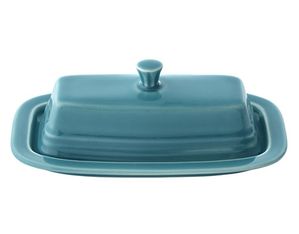 La burriera Fiest Dinnerware in 16 colori vivaci come questo peacock /Fiesta Dinnerware' in 16 bold colours , this peacock included/beurrier de Fiesta Dinnerware en 16 couleur brillantes comem celui-ci(peacock)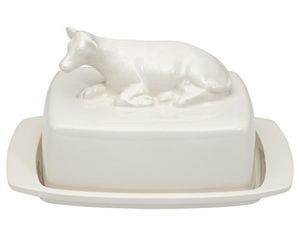 Per ricordare da dove viene il burro!/Just to remind where the butter comes from! POur se souvenir d'où vient le beurre!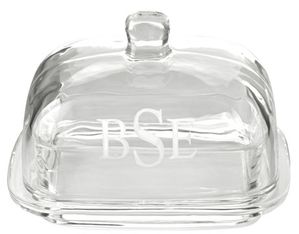 Burriera con iniziali incise/(bel regalo per un amico) Engraved butter dish (nice gift to a friend)
Beurrier en verre avec lettre initiales gravées(joli cadeau pour un ami)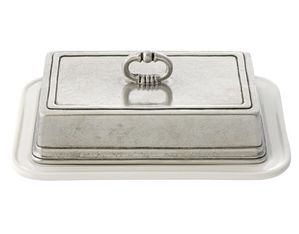 Lavorata a mano in Italia e prodotta da Match Pewter in argento/Match Pewter 's handcrafted in Italy in silver/Fait à la main en Italy , produit par Match Pewter en argent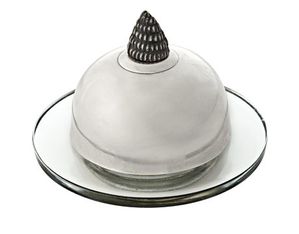 Per dare un tocco "marino" al pranzo , una conchiglia /To give a sea touch to your meal with a sea-shell top/Pour avoir une touche de mer à table avec une coquille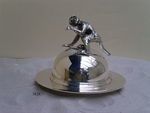 Burriera in argent di Laparra, con una simpaticissima scimmia elegante sul coperchio/Beautiful silver butter dish by Laparra with a nice elegant monjey on top/Très joli beurrier en argent par Laparra avec une sienge très sympa sur le couvercle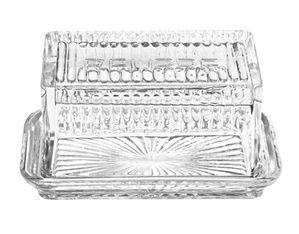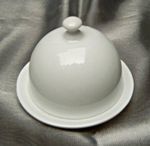 Burriera in vetro , riproduzione della classica burriera parigina da Kiss the Frog
Glass butter dish recalling the Parisian classic style by Kiss the Frog/ Buerrier en glasse sur le style Parisien , produit par Kiss the Frog
Burriera in porcellana nell'ottimo stile francese di Porcel'Anne - Nice white French china bellby Porcel'Anne/ un très joli exemple du style Français dans le mini beurrier en porcelaine blanche de Porcel'Anne
Burriera ALESSI , un grande stile italiano in acciaio inox/Butter dish by Alessi uin stainless steel . a great example of Italian style/un grand exemple de style Italien dans le beurrier Alessi en acier inox