21 marzo 2011
1
21
/

03
/

marzo
/

2011
15:20
Molto tempo fa, durante un'escursione al grande Mercato settimanale di Parma , fra le tante bancarelle ce n'era una in cui vendevano biancheria per la casa dalle tovaglie alle tende e.... in un angolo - tutti insieme a formare una montagnola di tessuto - tende e centrini con ricami fatti a mano di origine "tedesca" o comunque con soggetti tirolesi, austriaci, ecc.. Il venditore mi disse che erano opera di anziane signore bisognose di lingua tedesca che per pochi euro (allora, Lire) facevano questi lavori .
Erano cose veramente sublimi , tutte ricamate su lino e vendute per un boccone di pane . Rovistando nel mucchio , ho trovato prima il Guten Nacht, la Buonanotte e poi , cercando meglio ho trovato il Buongiorno(Guten Morgen) . Per 5 euro (circa 10mila Lire allora) ho portato a casa questi due lavoretti splendidi che poi, con comodo, ho fatto incorniciare ed ho appesa in camera da letto, uno per parte .
Some time ago, during a walk in parma main weekly market , I found a stand selling household staff.In a corner I saw a little mountain of curtains, tableclothes,runners all made in linen and hand-embroidered! I asked the guy and he said the items had been embroidered by old german--mother tongue ladies who , in order to gain some money, had done those beatiful things. I searched & searched in that mount of staff and found first Guten Nacht (Good Night ) and later Guten Morgen (Good Morning) : they were great ! For about 5 euros I bought them , brought at home and later framed as they are now . Then I placed them in my bedroom ...
Il ya quelque temps , je suis allée faire un petit tour au grand marché de Parma et j'ai trouvé un stand qui vendait de la linge de la maison , rideaux, nappes de table, torchons, etc.. D'un côté , il y avait une petite montagne de linge , rideaux , napperons ,.. en lin tous brodés à main et avec des sujets et des écritures en Allemand . Le type qui les vendait m'a dit qu'il s'agissait des travaiux fait par de veilles dames qui , pour gagner quelque sou, faisaient ces choses. J'ai donc regardé, cherché et à la fin trouvé quelque chose de joli: le Guten nacht - Bonne nuit d'abord et le Guten Morgen-Bonjour aprés ! Acheté pour environ 5 euros les deux , je les ai pris à la maison , fait encadrer et pendus dans ma chambre à coucher ... Joli, nest-ce pas?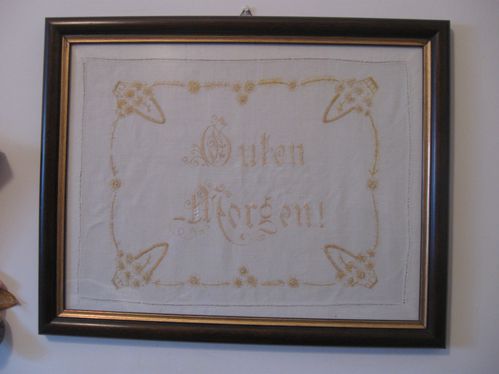 Ricamo a Punto pieno. Satin Stitch embroidery - Broderie à Point Plumetis