12 aprile 2010
1
12
/

04
/

aprile
/

2010
12:59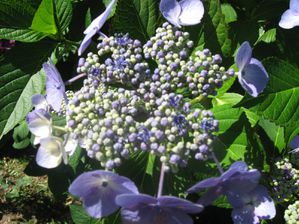 PICCOLO LIBRO CON GRAZIOSE IDEE DA CREARE , CUCIRE ED UTILIZZARE
Cecile Franconie è l'autrice di questo libro con piccole e fantasiose idee da cucire , con tessuti di recupero o semplicemente facendo abbinamenti di colori un pò ...particolari .
Cecilia Franconie est l'auteur de ce petit livre avec de jolies idées à coudre, en utilisant de l'étoffe de récupération ou bien simplement assortant des coleurs un peu... particulières..
Cecilia Franconie is the author of this little nice book with several nice ideeas to sew , using scapping fabrics or simply matching some particular colours for particular results!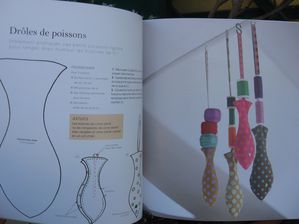 Come decorare un angolo di una cameretta dia lavoro, una veranda, un ingresso con pesci coloratissimi in stoffa !
Un coin de votre petit laboratoire, ou bien une véranda , et encore l'entré... avec ces poissons en étoffe.
A corner of your working room , or the ceiling of your verandah and again your entry... with little fabric fishes.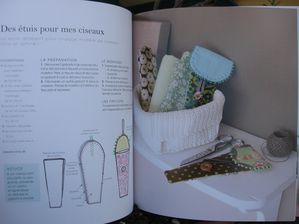 Dei semplici porta-forbici per custodire le forbici da lavoro: perbacco, io ne dovrei fare almeno 25 o 30!!!
Simple ètuis pour prendre vos ciseaux en voyage(moi je devrais en faire au moins 25/30...)
Some lovely travel scissors cases : i should made 25 -30 for me ... so many scissors I've got!
Avete deciso di fare un pò di maglia? oppure qualche centrotavola ad uncinetto? bene questa borsetta/secchiello mi sembra geniale per portarsi dietro il filato in modo raffinato!
Vous avez décidé de tricoter ou bien de crocher quelque petite chose? et bien voilà un conteniteur pour votre pelote, un sac/pochon génial
Did you decide to start knitting or crochetting ? This is a fine way to hide your ball of wool or cotton.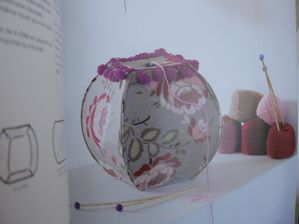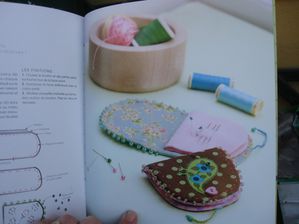 e questi porta aghi da viaggio?Decisamente carinissimi e semplici da fare e decorare con perline e passamanerie
Et ces petits sacs d'aiguilles pour prendre vos aiguilles en voyage? Très joliment fait avec de l'étoffe et des décorations bien reussites.
This is another nice idea to bring you needle around when travelling , nicely made with colourful fabrics and decorations..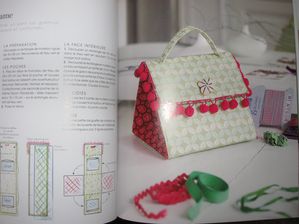 oppure una borsetta per lavorare le vostre crocette in trasferta senza perdere il gusto di un briciolo di civetteria....
et voilà un petit sac ( modèle Kelly !) pour collectionner tout l'indispensable pour coudre ou bien faire de la broderie .Très coquet!
Here is a Kelly-shaped bag to contain all your necessary to sew or to embroider and bring around. Dandy, eh?