8 marzo 2011
2
08
/

03
/

marzo
/

2011
11:32
Approfittando del fatto che oggi è

MARTEDI GRASSO

, ultimo giorno festaiolo di Carnevale ed è anche l'8 Marzo ,

FESTA DELLA DONNA

(che peraltro andrebbe festeggiata almeno 730 volte l'anno, cioè almeno 2 volte al giorno) , desidero ringraziare tutti gli amici che con un gesto, una parola o smeplicemente con il pensiero mi hanno festeggiato lo scorso 1° Marzo per il mio compleanno!
Grazie di cuore a voi tutti!
Taking advantage of the fact that todays is

SHROVE TUESDAY

, last day of a sparkling Carnival , and it is also the

WOMAN'S DAY

( who should be however celebrated at least 730 times a year namely twice each day of the year..) I wish to thank all of you, my Friends, who with a gift , with a word and with just a little thoughthave celebrated my Birthday last March 1st !
I heartily thank you all!
Je profite du fait que aujourd'hui c'est le

MARDI GRAS

, le dernier jour d'un joyeux Carnaval et il est aussi la

FETE DE FEMMES

(même si je suis de l'avis que la femme devrait être célébrée au moins 730 par année, 2 fois par jour..) je veux remercier vous tous , mes Amis qui ,avec un petit cadeau , avec un joli mot et seulement avec une pensée ,avez célebré mon Anniversaire le 1er Mars passé!
Merci de tout coeur à vous tous!!
E grazie anche a BARBARA di Torino , un'amica cara e sincera del blog , che ha voluto ancora una volta dimostrare la sua calorosa amicizia inviandomi un pacchettino contenente...
And Thank you to Barbara of Turin , a nice and sincere blog friend who wanted to show me once again her friendship by sending a nice little parcel containing ..
Et Merci à Barbara de Turin , une chère amie du blog , qui a voulu me demontrer encore une fois son amitié grande et sincère avec un epetit paquet contenant ...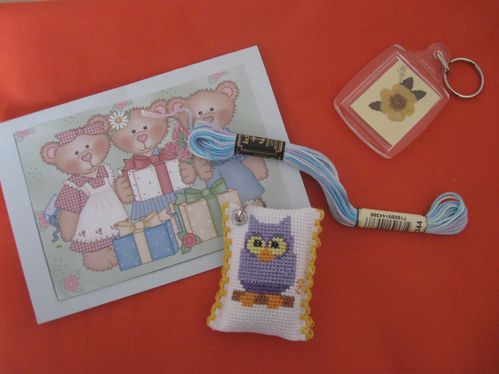 Il biglietto , all'interno , è ricamato , il portachivi con la civetta (con il cuore sul retro) è fatto da Barbara per la mia collezione di civette, il portachiavi con i fiori essiccati è fatto dalla mamma di Barbara (mani d'oro, direi! ) e la matassina sfumata di DMC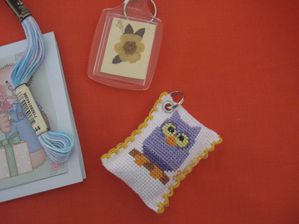 The card has got Barbara's embroidery inside(I'll show later) , the key-holder with the little owl (and the hear on the backside)is a gift of her for my owls collection, the key-holder with dried flowers has been mmade by barbara's mom ( gold hands, I'd say) and lovely
blu shaded DMC skein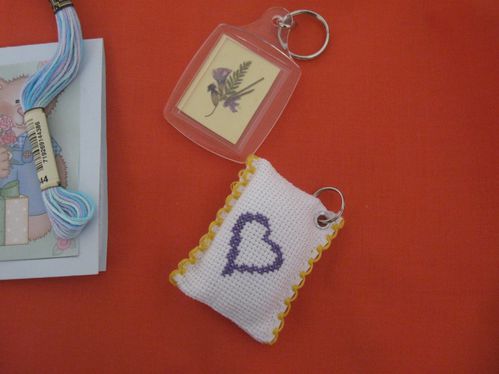 La carte de voeux a une broderie à l'interieur que je vous montrerai aprés , le porte-clé avec la chouette (et le coeur sur le derrière) a été fait par Barbara très joliment pour ma collection de chouettes , le porte-clé avec les fleurs sechées est fait pas sa mère (mains d'or...) et une jolie echevette de nuances en bleu DMC ..