24 dicembre 2013
2
24
/

12
/

dicembre
/

2013
17:58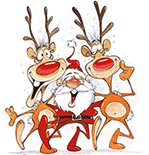 A voi tutti e tutte un Felice e Sereno Natale .Tanti cari auguri per tutte le persone amiche che passano sul mio blog sempre, di tanto in tanto e per caso. A tutte le persone amiche che leggono dall'Europa, dalle Americhe, dall'Asia, dall'Africa, e quelle dall'Oceania.
A tutti gli auguri più belli perchè il Natale è una festa speciale ,una festa speciale per il cuore !
Auguri! Gloria
Merry Christmas to all the friends who come and visit my blog always, sometimes, or at random and all my hottest wishes to you who are in Europe, in the Americas, in Asia, in Africa , in Oceania. To You, alla my best wishes for a lovely Christmas, a special feast, a special feast for your heart!
Merry Christma, Gloria
BON NOEL à vous tous qui passez dans mon blog spuvent, toujours, par hasard! Meilleurs voeux pour tous ceux qui viennent de l'Europe, des Ameriques, de l'Asie, de l'Afrique et del'Océanie.A vour les meilleurs voeux pour cette fete magnifique et spèciale , spéciale pour votre coeur!!!
Meilleurs voeux, gloria