29 dicembre 2012
6
29
/

12
/

dicembre
/

2012
14:03
Ecco un primo regalo di Natale che mi è piaciuto tantissimo, civette-gufi per la mia collezione , ma questi sono i Blues Brothers !!!
Splendidi, eh?? E' mia sorella Flò che mi ha fatto tanto piacere!
This is a first Xmas gift I received and deeply appreciated cause it is nice and good to enrich my owls collection! The Blues Brothers from Flò, my sis !! very nice gift indeed!!!
Voilà le premier cadeau de Noel qui n'a rien à voir avec la broderie mais avec ma collections de chouettes et des hiboux!! ce sont les Blues Brothers version chouettes qui vont enrichir ma collection . Très trés jolis!!!! c'0est ma soeur Flò qui m'a gatée cette fois!!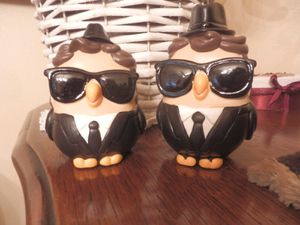 Dan Aykroyd & John Belishi