14 dicembre 2010
2
14
/

12
/

dicembre
/

2010
11:30
Ecco due dei tanti cuscinetti che ho fatto nel tempo: sono la mia passione queste piccole cosette sia da regalare che da tenersi sul divano, in serie, di casa propria .
I disegni sono di Stoney Creek , una serie dedicata al Natale, mentre Mr Gingerbreadman e Signora sono di Just Another Button .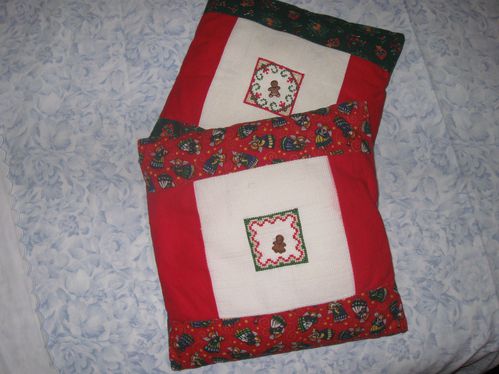 Two little Xmas cushions to make and devote to friends or just to keep for oneself and display , in series, on one's coach of the living room . They are my passion, so cute and so charming ! The designs are from Stoney Creek , Xmas edition, while Mr and Mrs Gingerbreadman come from Just Another Button
Voilà les derniers deux de la grande série de petits coussinets que j'ai fait dans les dernieres années . Je les adore et ils sont un joli cadeau pour ses amis ou bien ... pour son sofa , comme dans ce cas!
Les grilles sont de Stoney Creek , éditions de Noel , et les boutons sont de Just Another button .