5 maggio 2012
6
05
/

05
/

maggio
/

2012
17:30
Finalmente una prima decorazione per le mie forbicine da ricamo molto speciali , qualcosa che porti sempre un pò di fortuna !Mi ricordo che il disegno mi è stato suggerito da Corinne di Passion Broderie e dopo un pò di tentennamenti , l'ho confezionato in pochi minuti:Non ha grosse pretese ma è simpatico.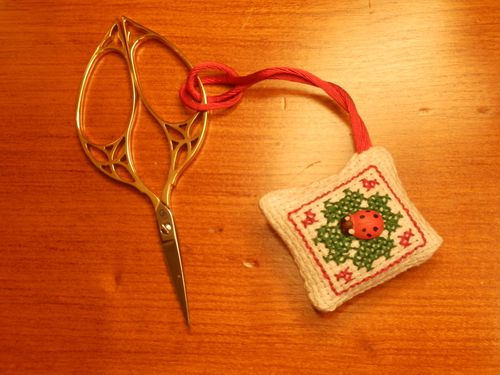 I finally found the chance to make this little decoration for my "special" embroidery scissors: I just wanted something easy and bringing good-luck in my embroidery activity . I got this design from Corinne of Passion Broderie and I think it's a very cute design! A Ladybug button over a four-leaves clover brings much luk... I hope!.
Aprés longtemps je me suis décidée et j'ai pris la grille que Corinne de Passion Broderie m'aveait donnée et j'ai fait ce petit fob avec une coccinelle assise sur un trèfle à quatre feuilles porte-bonheur. Très simple mais très mimi je trouve.