6 gennaio 2011
4
06
/

01
/

gennaio
/

2011
11:59
Ebbene, spero che abbiate passato una buona Epifamia o meglio, una buona BEFANA !!
E con la Befana , tutte le feste terminano . Il 6 Gennaio per noi, in Italia e in altri Paesi europei , il 6 Gennaio non è solo dedicato alla Vechia Signora a cavallo di una scopa che porta doni ai bambini ma soprattutto il Giorno dei Magi .

Well, I hope you had a nice 6th of January , the feast of the Epiphany or , as we use in Italyand in other european countries , the feast of the BEFANA , an old lady (someone describes her as a Witch) , riding a broom and bringing presents to childrem.However this day is mainly dedicated to the arrival of the three KINGS to the Holy Creche.
J'espère que vous avez eu un bon 6 Janvier , en Italie et dans quelques autres pays européen, la fête de l'Epiphanie , mieux connue comme celle de la BEFANA , la veille dame (parfois, une sourcière) qui vole sur une balai et prend des cadeaux aux enfants . Toutefois le 6 Janvier est le Jour des Rois , qui arrivent devant la Crèche .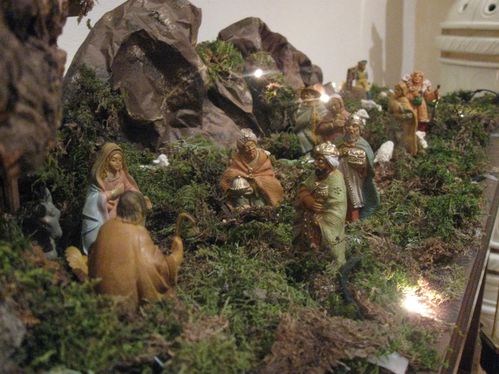 Infatti , secondo la storia della Natività, il Gesù della stalla di Betlemme si è mostrato al mondo attraverso la venerazione dei tre Re (che sembra rappresentassero Sem, Cam e Yafet ,la comunità bianca, quella nera e quella gialla) che guidati dalla Stella Cometa gli hanno portato i loro doni: Oro, Incenso e Mirra .
Eccoli dunque nella mia Creche appena arrivati , in mezzo ai pastori . Da domani saranno ancora in viaggio per il prossimo 6 Gennaio!
According to the history of the Nativity , Baby Jesus showed himself to the world through the Kings who repressented the three main humankind communities originated from Sem , Cam and Yafet , namely the white, the black and the yellow communities .The three guided by the Comet Star arrived before Jesus bringing him the important gifts :Gold, Incence and Myrrh..
They have just arrived in my Creche in the middle of shepards . As from tomorrow the three kings will start slowly walking again to reach next year, same day, the Creche again!
Selon l'histoire de la Nativité , le petit Jesus s'est montré au Monde entier à travers les tros Rois qui rappresentaient les troix communités qui avaient pris leur origine de Sem, Cam et Yafet , c'est à dire la blanche, la noire et la jaune .Ils ont été guidé par la Comète et ils ont pris à l'Enfant trois presents très importants : Or, Encens et Myrrhe.
Voilà , ils viennet d'arriver , au milieu des bergeurs. Demain ils reprend leur chemin pour arriver, l'année prochain , meme jour , devant la Crèche de nouveau!!