10 agosto 2012
5
10
/

08
/

agosto
/

2012
11:52
Famiglia: FABIACEAE
Nomi comuni: Albero del Corallo, Albero dell'Argentina , Seibo
Albero di origine Su americana(Argentina, Brasile, Uruguay, Viene piantato come albero da viale o in giardini nel Centro-Sud d'Italia. Non è un albero per il Nord!
Il fiore , bellissimo, è il fiore nazionale dell'Argentina (FLOR DE CEIBO) ed anche un albero molto "cittadino" di Los Angeles dove viene chiamato solitamente albero di corallo.E' un albero di medio-piccole proporzioni che arriva ad un'altezza di 6-8 metri. il tronco non è regolare e legnoso, ha rami irregolari e spinosi.
Fiorisce da aprile a ottobre in Europa e da ottobre ad aprile in sudamerica .
Il fiore è rosso corallo si presenta in un insieme di infiorescenze. La corolla è a forma di...farfalla prova ne è il petalo più grande che si trova nella parte più bassa , mentre i 2 petali più piccoli , le "ali" , sono all'interno del calice.
I fiori sono ricchi di nettare di cui sono ghiotti gli uccelli . i frutti sono a forma di baccello(come nei legumi)dentro cui si trovano i semi.
Queste foto le ho scattate io in Sardegna .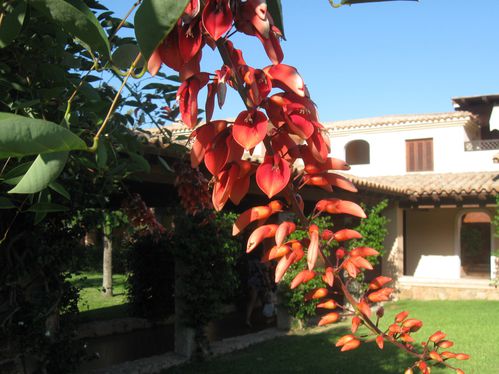 Family : FABIACEAE
Common names, Flor of ceibo, Cockspur Coral Tree,
Flowering tree native of South America (Argentina, Brasil, Uruguay ) and well know in California, USA , Los Angeles in particular for decorating boulevards. In Italy the plants grows in the central and southern areas. North is too cold!
The flower is the Nationl Florzer of Argentina(Flor de Ceibo).It's a small-medium size tree which can reach 6-8 mt tall,The tree's trunk is woody and irregular as well as its spiny branches
I took these pictures in Sardinia.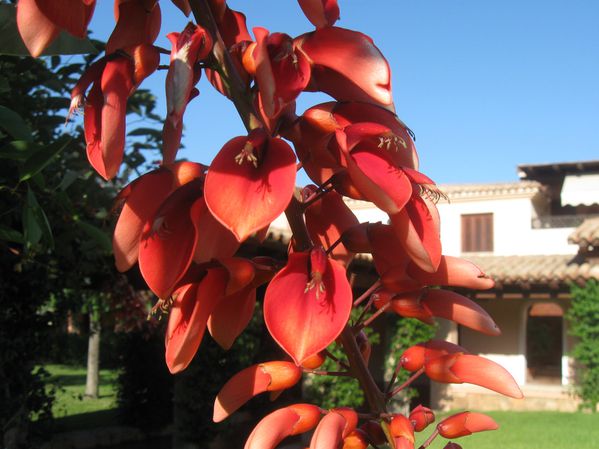 Famille : FABIACEAE
Les noms communs Flor de Ceibo, seibo , bucaré
Arbre originaire d'Amérique du Sud (Argentine, Brésil, Uruguay) et aussi présent en Californie, Etats-Unis, Los Angeles, en particulier pour décorer les boulevards . En Italie, les plantes poussant dans les régions centrales et méridionales. Au Nord il est trop froid!

La fleur , très belle, est la Fleur Nationale de l'Argentine (Flor de Ceibo). C'est un arbre de taille petite ou moyenne qui peut atteindre 6-8 m de hauteur, le tronc de l'arbre est boisé et irrégulière, ainsi que ses branches épineuses.
Elle fleurit d'Avril à Octobre en Europe et en Amérique du Sud à partir de Octobre à Avril.

La fleur est rouge corail et vient dans une série de pointes. La corolle est en forme de papillon ... la preuve est dans le fait que le pétale le plus grand est situé dans la partie inférieure, tandis que les 2 pétales les plus petits,dit les «ailes» ,sont à l'intérieur de la tasse.

Les fleurs sont riches en nectar dont les oiseaux sont gourmants, tandis que les fruits sont en forme de gousses (comme dans les légumineuses) à l'intérieur duquel sont les graines.
Photos prises par Gloria en sardaigne.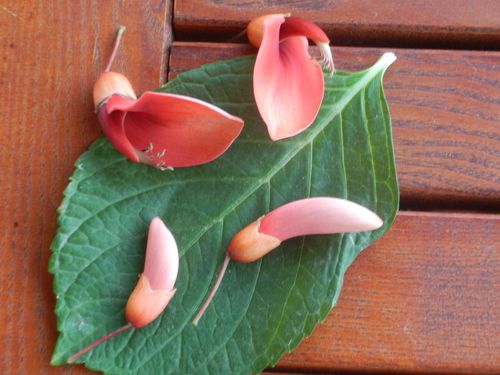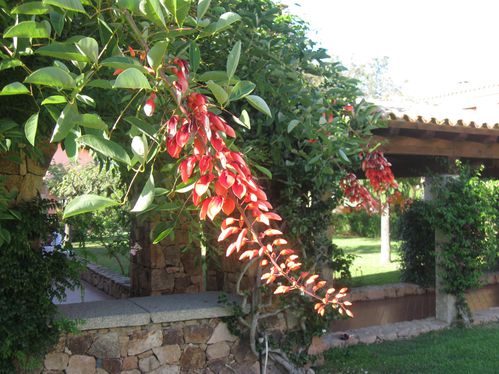 It blooms from April to October in Europe and in South America from October to April.

The flower is coral red and comes in a set of spikes. The corolla is shaped like a butterfly ... the proof is the largest petal is located in the lower part, while the 2 smaller petals, the "wings" are inside of the cup.
The flowers are rich in nectar of which birds are fond . while the fruits are pod shaped (as in legumes) inside which are the seeds.