5 maggio 2010
3
05
/

05
/

maggio
/

2010
11:45
Grazie all'amica Cristina G. che ha ricamato a crocettine e regalato questo bel quadretto che è appeso nel mio studio-laboratorio . Il disegno è senza dubbio uno di Ellen Maurer-Stroh, di cui io stessa ho conservato una copia ma che non mi sono mai decisa a farlo per me! Grazie, Cri.
A proposito, il padre di Cristina ha fatto a mano la cornice del lavoro...un bel team.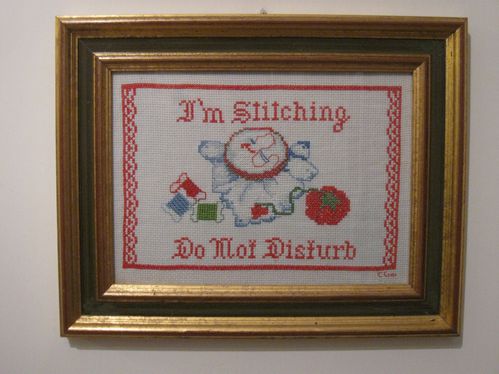 Thanks to my friend Cristina G. who cross stitched this lovely work , now hang on one of my sewing room walls.
The chart is undoubtlly from Ellen Maurer-Stroh . I have got this chart too but I never got the decision to reproce it for me.. Thanks , Cristina ! By the way, Cri's dad hand made the frame : a nice team, eh?
Merci à mon ami Cristina G. qui a brodé ce joli cadre maintenant accrocheé sur un de murs de mon studio/laboratoire.
Le tableau sans doute vient d'Ellen Maurer-Stroh. J'ai moio aussi cette grille mais je ne me suis jamais décidée de le reproduire pour moi , c'est drole!..
Merci, Cristina! A propos, , son père a fait le tableau à la main , un vrai artiste et une bonne équipe, n'est-ce pas?
Ciao!