27 agosto 2010
5
27
/

08
/

agosto
/

2010
10:33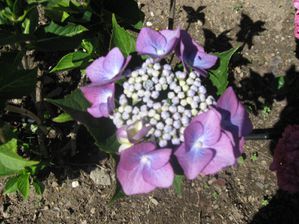 Con grande piacere vi mostro come altre amiche hanno realizzato il Gatto e L'uccellino
di cui ho pubblicato lo schema di recente .Quando e se sarete intenzionate a riprodurlo, vi invito a mandarmi una foto con il vostro lavoro da pubblicare sul blog .
C'est avec un grand plaisir que je vous montre comment d'autres amies ont réalizé le Chat et le Petit Oiseau dont j'avais publié la grille il y a quelques jours . Quand et si vous serez intéressées à le reproduire, vous etes les bienvenues à m'envoyer la photo pour la publier sur ce blog.
It is a pleasure to show you how some friends have processed the Cat and the Little Bird which pattern has been published on the blog short time ago. When and if you are interested in reproducing it , you are welcome to send me a photo of your work to publish in this blog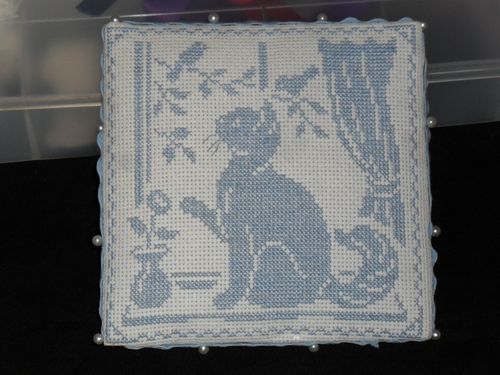 ecco il Gatto di Sophie, tenerissimo!Complimenti, Sophie! Voilà le petit chat à Sophie , très mimi . Bravo, Sophie!-
Sophie's cat in a sweet tender light blue version . Great job, Sophie!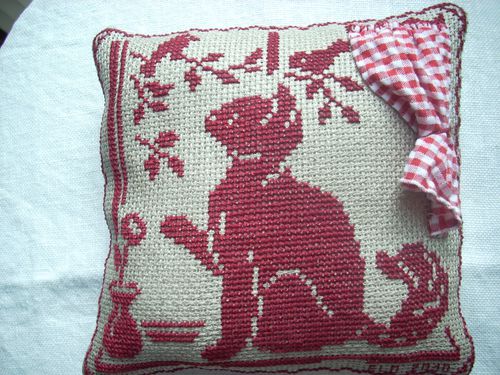 Ecco invece il cuscinetto della Flò(per chi non lo sapesse ancora, è mia sorella)
Anche questo tenerissimo , addirittura 3D con la tendina in tessuto Koelsch!
Ottimo, Flò!- Voilà le coussinet que Flò (ma soeur ) a fait . Il est si mignon et aussi en 3D avec ce petit rideau en tissue Koelsch ! Bravo, Flò!
Here is the little cushion made by Flò( who is also my sister) . Very sweet indeed and in 3D version due to the little curtain in Koelsch fabric. Excellent, Flò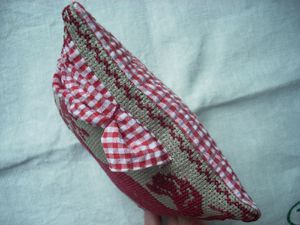 Dettaglio del cuscinetto di Flò- Détail du coussinet de Flò- Detail of Flo's cushion