9 dicembre 2010
4
09
/

12
/

dicembre
/

2010
12:45




ALBERO DI NATALE
Little Christmas Tree
Petit Sapin de Noêl


Questa figura animata dell'albero di Natale rende l'idea dell'ultimo lavoretto fatto ..
This is a fabric Christma s tree made first time last year and proposed ionce again this year with an easy Tuto to follow
Voilà le petit Sapin en étoffe fait en 2009 mais que je vous repropose avec le Tuto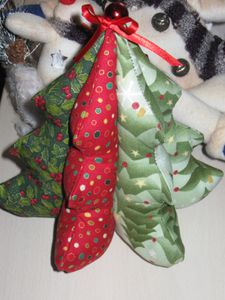 Come è venuto fuori? tempo fa , l'avevo visto fare in carta colorata (verde) tanti anni fa da una mia collega dai trascorsi inglesi e mi era piaciuto .Il procedimento fatto da AnnaMaria sulla carta valeva anche per la stoffa, con l'unica differenza che occorreva procedere con cuciture a macchina (possibilmente) ed imbottitura .
The idea? When my colleague Anna Maria made it once for Xmas with green PAPER ! I loved it and thought it could be made with fabric or light wood (and painted ) . So I proceeded..
L'Idée ? Elle était venue quand Anna-Marie -une collègue- a fait pour Noel un petit sain
en Papier vert. J'ai pensé qu'on pouvez le faire en étoffe aussi ou bien un bois leger (et coloré) , aisni j'ai commencé..
GLI INGREDIENTI

3 COTONINE FANTASIA NATALIZIA : 2 quadrati da 25 X 25 CM CADAUNA
IMBOTTITURA PER CUSCINI/PUPAZZI- FILO DA CUCIRE NELle TONALITA' DEL TESSUTO (QUI VERDE E ROSSO)

FORBICI, MATITA PER DISEGNO SU STOFFA, SPILLI

YOU NEEED
3 Different Xmas printed fabrics : 2 sqaures of 25x 25 cm each fabric
Synthetic filling - Sewing thread same colours as teh fabrics- scissors, fabric marker , pins
LE NECESSAIRE
3 morceaux d'étoffe thème NOEL : 2 carreaux de 25 x 25 cm pour chaque étoffe
Rembourrage synthetique - Fils à coudre selon la couleur de l'étoffe
ciseaux - marqueur pour étoffe
1. SAGOMA DELL'ALBERELLO
XMAS TREE PATTERN
GABARIT DU PETIT SAPIN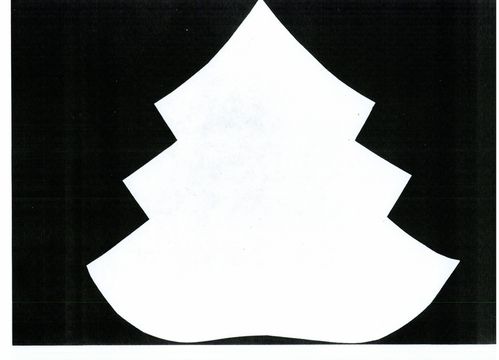 1.
Mettere 2 quadrati di una cotonina uno sopra all'altro e fissarli con gli spilli perchè non si muovano.
Riportare sul rovescio della prima cotonina il modello dell'alberello.Ripetere per tutte e tre le cotonine ed ottenere in tutto 6 sagome
Take 2 squares of the same fabric , place right side against right side , fix them with pins all around (they mustn't move) . Draw the tree pattern on one of the pieces on its BACKSIDE and cut the tree ,double.Repete it with the other 2 fabrics squares and you'll ahve 4 more trees. (6 in all)
Prendre 2 carreaux de la meme étoffe ,les mettre endroit contre endroit, les fixer avec les épingles (ils ne doivent pas bouger) . Dessiner avec le marqueur le sapin sur le retro de l'étoffe . Répeter le meme avec les 2+ 2 carreaux et vous aurez 6 sapins en total.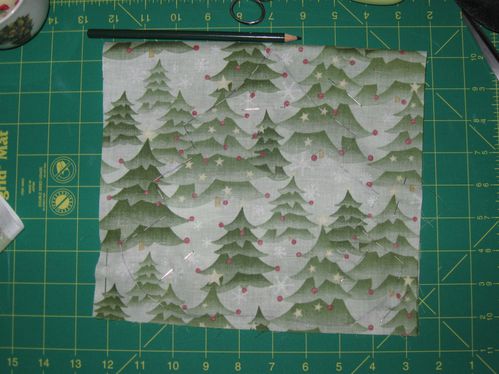 Si vede la sagoma dell'albero riprodotta sul tessuto con la matita?Can you see the tree pattern on the fabric with the marker?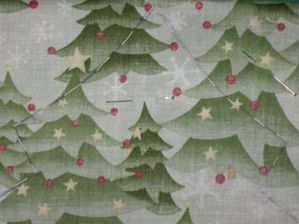 1.Per ogni coppia di cotonine , imbastire l'alberello lungo i lati lasciando aperta la base
For each couple of fabric squares , baste them along the tree sised leaving the base open
Pour chaque couple de Carreaux d'étoffe, faufiler-le lelong les cotés en laissant la base ouverte.
2. Passate a macchina sopra l'imbastitura (senza toccare la base) ,rovesciate al diritto
e passatelo con ferro caldo
Sewing machine along the sides over the basting , leaving open the base , turn on the riche side and prss
the tree with hot iron.
Coudre à la machine les cotés du sapin faufilés , en laissant toujour la base ouverte. Tourner à
l'endroit et repasser à fer chaud
3. Mettere i tre alberelli uno sopra all'altro , perfettamente in fila , fissarli con gli spilli perchè non si muovano e cucirli a macchina tutti insieme nel mezzo (foto)
Place the three trees one over the other one, perfectly in order, fix them with pins(they mustn't move) and sew them all together right in the middle as in photo
Placer chaque sapin sur l'autre , les fixes avec des épingles (pour qu'ils ne bougent pas) et les coudre à
la machine tous ensemble au milieu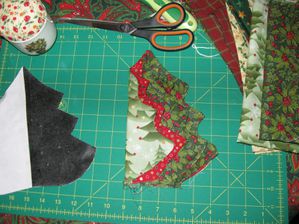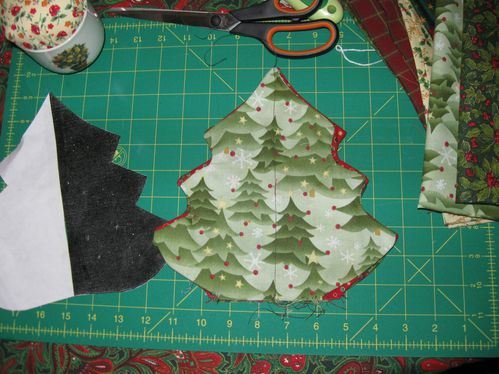 4. Avrete dunque 6 mezzi alberi da riempire. Prendete l'ovatta da imbottitra e comnciando dalla pinta , riempite ogni quarto bene , aiutandovi anche con attrezzo appuntito. Fate la stessa operazione per ciascuna delle 6 metà.
You have now 6 half trees to fill . Take some synthetic filling and starting from the point of each half , fill it well (a pointed tool could be helpful) : Do the same for each of the 6 halves.
Vous avez maintenant 6 moitiés de sapin à rembourrer. Prendre du rembourrage synthetique et en commencçant de la pointe de chaque moitié , remplir bien aidé par un crayon pointu par example.Continuer pour chaque moitié.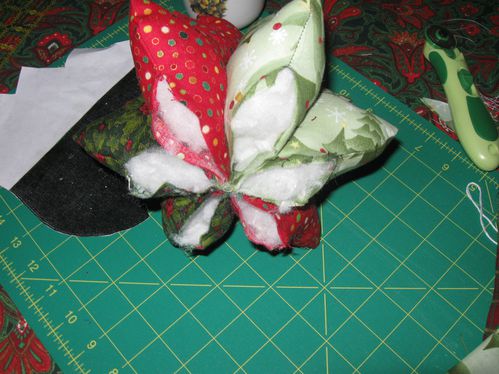 5. Ora , occorre chiudere ogni quarto con piccoli punti a mano . E il lavoro è fatto! Decorare a piacere
Now, you have to close well the 6 bottoms with some stitches and the work is done! Decorate the tree as you like
Maintenant il faut fermer les 6 moitiés avec de petits points et le travail est fait! Décorer selon son gout..