28 settembre 2012
5
28
/

09
/

settembre
/

2012
14:31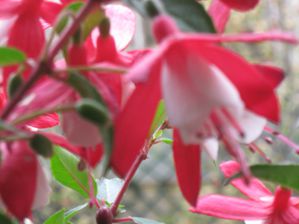 Innanzi tutto mi devo scusare perchè già da qualche giorno sono assente dal mio blog , anche se vi seguo per quanto posso. Ho molte cose da fare e non riesco a fare proprio tutto ciò che vorrei.
Sono certa che mi capirete , visto che anche voi ...avete lo stesso problema!!!
Sto seguendo i miei SAL , gli scambi di buste ricamate, gli ATC e preparando cose per Natale . Quindi , dal punto di vista dei lavori manuali , le mie dita sono sempre in esercizio!
Vi lascio augurandovi uno splendido fine settimana e mostrandovi la mia pro-nipote Irene (che ha quasi 5 mesi..) con la pancia piena dopo la sua PRIMA MELA GRATTUGIATA in braccio alla sua mamma.
Buon fine settimana, ciao, Gloria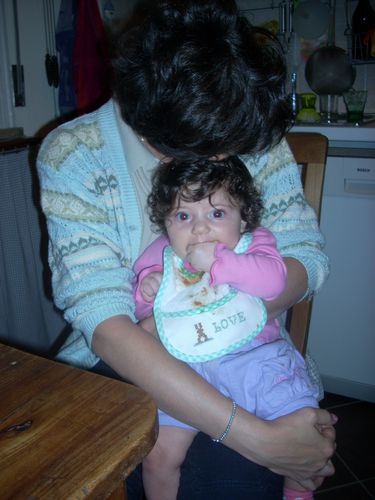 I know , I have been off my blog for some days, nothing serious , just a HUGE amount of things to do , more than usual , and I had little time to pop in your blogs too. I believe you'll fully understand me caus e... you all are in the same position everyday!!
However I kept on exercising my fingers doing some needleworks, following my SAL, ATC , exchange of embroidered envelops and sewing something for Christmas .
I wish you a very special weekend with sun or rain , but excellent anyway!See you next week on the blog !
Here is Irene, my grand-nièce , she'll turn 5 months next week... with a quite astonighed look after having tasted the first grated apple of her life! he she is with her Mom.
Cheers, Gloria!
Je sais , je suis coupable, je suis restée loin de mon blog pour quelques jours et vous vous faisez de soucis! Et bien , j'ai eu pas mal de choses à faire dernierement et pas assez du temps pour faire tout emsemble . Vous le savez , vous etez comme moi, toutes très bien engagées avec vos devoirs !
je n'ai pas oublier de faire mes exercises de ... broderie, en suivant mes SAL, ATC , Echanges d'enveloppes et aussi en faisant des choses pour Noel . On se voit la prochaine semaine donc !
entretemps , un très bon weekend à vous toutes, avec le soleil ou la pluie , mais quand meme BON!
Je vous montre ma petite nièce Irene que la semaine prochaine aura 5 mois , dans les bras de sa maman , avec un regard plutot étourdi après avoir gouter un pomme râpé pour la première fois dans sa vie!!
Bon week end, bisous , Gloria