3 maggio 2013
5
03
/

05
/

maggio
/

2013
15:50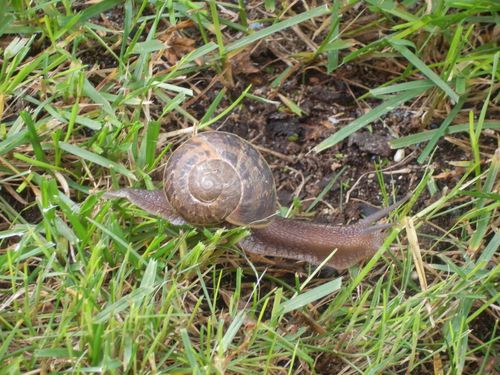 Questo esemplare di HELIX ASPERSA fluttuava l'altro giorno fra i fili dell'erba nel mio giardino , ai piedi di una Forsythia. Un pelo e sarebbe finita sotto il tosaerba! Carima, si è lasciata fotografare senza problemi .. pensavo che si richiudesse nella casetta invece tranquilla ha proseguito il suo perocrso e io l'ho lasciata andare : ammetto che un piattino di lumache alla Bourguignonne mi sarebbe piaciuto ma ho pensato alla paffuta visitatrice che non mi aveva fatto niente e quindi poteva circolare liberamente in giardino .. ovviamente guardadosi dal tosaerba!!!
This nice example of snail HELIX ASPERSA was floating the other day on the grass of my home garden, down a Forsythis plant .Just a few inches and it would be cut off by our mower. Very nice animal, it left me take its picture : I thought it would have recovered inside its little house , nothing , it turned to be courageously .Well, I admit that a plate of Escargots à la Bourguignonne (a French snail plate ) would have be nice to eat .But then watching at the slow visitator I considered it was better to leave it circulating free in the garden cause it didn't do anything to me . It will however have to pay attention to any mower around !!
Cet examplaire d'escargot HELIX ASPERSA flottait dans l'herbe de mon jardin aux pieds d'une plante Forsythia . Encore un centimetre et il serait fini sous la tondeuse !! Je dois admettre que j'ai pensé à une belle assistte d'escargots à la Bouiguignonne mais, enfi, cet escargot ne m'avait rien fait et donc il était mieux la laisser circuler librement mais dans l'espoit qu'il n'ira pas sous la tondeuse!!!