1 febbraio 2011
2
01
/

02
/

febbraio
/

2011
16:25
Un bel pacchetto proveniente da Bosc Mesnil, Seine-Maritime ( alta Normandia) era nella cassetta della posta ... L'amica Françoise mi ha ricordato con dei deliziosi prodotti delle sue mani! Françoise non ha un blog , ma dovrebbe averlo! Una pochette deliziosamente rifinita con un tessuto che trovo molto bello, contenente le matassime di Muliné DMC utilissime, ed il calendario tascabile del 2011 , accompagnati da una raffinatissima cartolina in lino ricamata e montata su una base di feltro verde prato , oltre alla cartolina di buon Anno con tanti auguri e parole gentili!!
Grazie Françoise con la quale condivido anche il segno zodiacale... Pesci!!
*****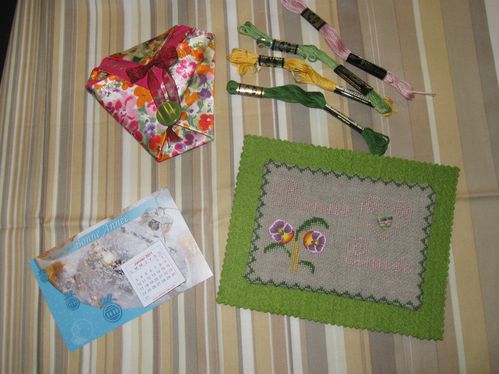 Un joli paquet arrivé de Bosc-Mesnil , Seine-Maritime( ou Haute Normandie) était dans ma boite à lettres . C'était le cadeau de Françoise , une amie qui n'a pas le blog mais qui devrait l'avoir en voyant ses jolies choses! Une delicieuse pochette fait avec une étoffe que je trouve super belle , qui contenait 4 echevettes de Dmc très utiles et le petit candrier de 2011 . Une enveloppe en lin brodèe très bien dont le montage a èté fait sur une base de feutrine vert clair . Super beau tout!!! et naturellement la carte de Bonne Année et pleine de mots gentils!
Merci beaucoup , Françoise ! Une amie avec laquelle je patage aussi le signe du zodiaque: Poissons!!
A nice parcel arrived from Bosc Mesnil , Seine-Maritime (Upper Normandy) et it was the present from friend Françoise who hasn't got a blog but she should have one looking at her works! A pretty pochette made with a really beautiful fabrics and finished in a wonderful way , containing 4 DMC skeins very useful indeed and a tiny little calendar of 2011, again, an envelop entirely and finely embroidered on linen mounted on a light green felt base . of course another card with new year wishes and alot of nice words for me !!
Thanks alot , Françoise!! very nice friend with whom i share also the zodiacal sign.... Pisces!!