30 dicembre 2010
4
30
/

12
/

dicembre
/

2010
09:35
Malgrado il quantitativo esagerato di neve caduta in tutta Europa , Santa è ancora in giro per smaltire ipacchi rimasti. Così , ogni giorno, anch'io ricevo un piccolo presente da persone amiche .
E quindi passo ora a ringraziare ...
Despite of the huge amount of snow which recently fell on Europe , Santa is still flying around to deliver all his parcels. So, almost everuday I receive a little nice gift from a friend .Therefore I wish now to thank ...
Malgré la grande quantité de neigé qui est tombé sur l'Europe , Pére Noël est encore en train de délivrer ses cadeaux . et par consequence , presque chaque jour, je reçois un petit très joli cadeau de la part d'une personne amie. Donc, cette fois-ci, j'aimerais remercier ....
Marie-France (Kreakados )
per la sua busta molto bella , ricamata, decorata a mano con tessuto e passamaneria come pure il biglietto di auguri lavoratoa mano sia al centro che sui lati!
for her beautiful envelop , embroidered , nicely hand decorated with fabric and trimming
as well as her wishing card hand-made in its crossstitched core and on the 4 sides (Algerian-eye stitch)
pour cette très belle enveloppe ,brodée parfaitement , fait à la main avec l'étoffe et décorée avec du galon et sa carte tout fait à la main ,sois le centre au point de croix que les 4 angles (Algerian eye)tout délicieux!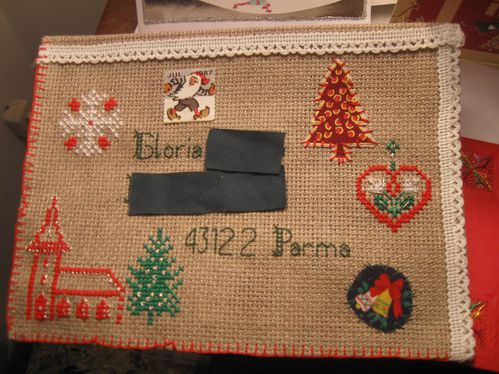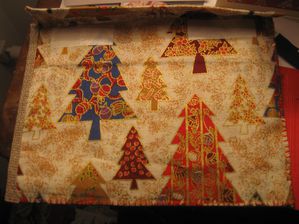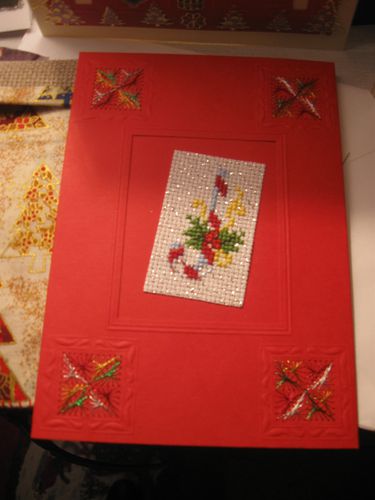 Dominique
Che dall'Alsazia mi ha fatto avere questa splendida piccola decorazione fatta per metà a punto croce e per metà all'uncinetto (direi aghino..) e rifinita con pannolenci. Una piccola delizia.Ed il suo biglietto pieno di Renne..
From Alsace , Dom sent me this beautiful Xmas decoration half cross stitched and half crochetted with felt finishing. really lovely item! and her wishing card full of reindeers...
l'Alsacienne, pour cette très jolie décoration brodée et crochetée avec une finition en feutrine !
et sa carte pleine de rennes porte-bonheur...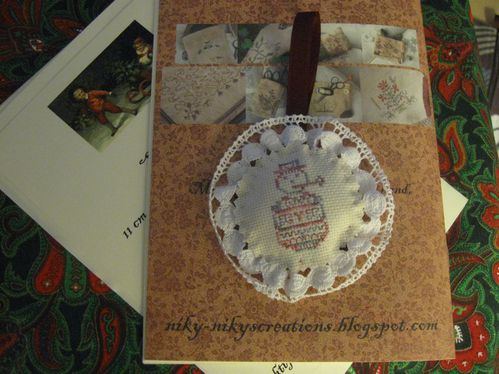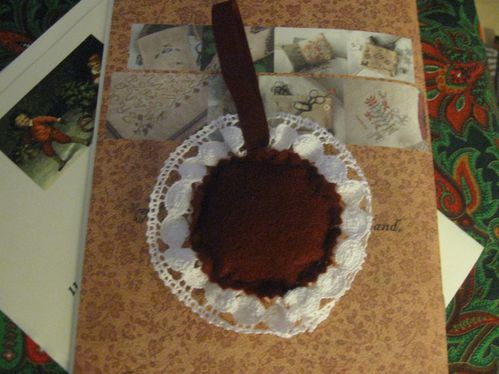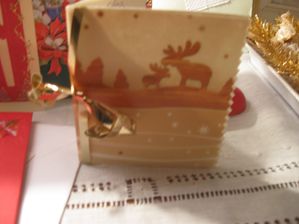 Fiorella,
con il suo splendido Hardanger "secretato" in un medaglione acrilico rifinito da passamaneria dorata e fiocco e l'altro medaglione acrilico, piatto, realizzato con colore madreperlato e marmorizzato e glitter dorato, rifinito con fiocco e stella
With her wonderful Hardanger work, safely secured inside an acrylic medallion and finished with golden trimming and bow. Additionally an artistic flat medallion nicely decorated with marbred motherpearl painting and golden glitter of great effect, finished with a golden trimmed bow and little star
Avec sa touche formidable de Hardanger fermé dans un médaillon en acrylique et fini avec du galon doré et un flocon doré. Encore une beauté, un médaillon plat acrylique dècoré avec de la peinture madreperlée marbrée et du glitter doré de grand effet . Tout fini en or avec unn flocon et une petite étoile.Adorable!