3 maggio 2013
5
03
/

05
/

maggio
/

2013
10:43
Uhmmm , ancora presto qui per sentire l'intenso profumo della mia lavanda ma , nell'attesa ,
Agnés/Lhassa mi mandato un pacchetto-regalo molto --- provenzale ed assolutamente graditissimo.
Un asciugamanini da cucina , il sapone all'olio d'oiva , il magnete per il mio frigo, i due splendidi ditali per la mia colelzione ed una bella cartolina di Aix-en-Provence . Guardate che bellezza, grazie mille Agnés!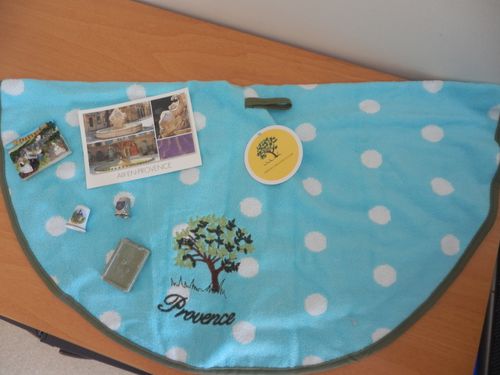 Another nice surprise , this time from Agnés /Lhassa who spolied me with some lovely gifts from the famaous French region of Provence . A nice kitchen round towel with the traditionl Provence Olive tree embroidered on , a magnet for my fridge (the collection is getting richer and richer) with lanvender harvest , two lovely thimbles for the collection , an excellent olive oil soap (I love this kind of soap ... everything smells clean neat !) and a a nice postcards from Aix-em-Provence . Thank you very much , Agnés!!!
Une autre surprise dans ma BAl, un paquet de Agnés/Lhassa qui m'a gâtée avec les produits de la Provence, une région très proche à nous , l'Italie et que j'aime beaucoup. Voilà donc le torchon pour ma cuisine avec l'arbre de l'olivier brodé de la provence , le magnet de la région avec la récolte de lavande, les deux dés pour ma collection le savon à l'huile d'olive (que j'adore!!) et une belle carte de Aix-en Provence , une belle ville!
Merci beaucoup, Agnés!! Super cadeau !