8 giugno 2010
2
08
/

06
/

giugno
/

2010
16:22
Per quanto si preferisca il ricamo(in qualsiasi forma e stile), il decoupage, il patchwork o quilting od altre forme artistiche , anche la costruzione miniaturizzata di una casa delle bambole o semplicemente la riproduzione della vostra casa dei sogni in miniatura è qualcosa di molto affascinante !
Per questo, tempo fa a Boston , mi sono regalata un libro molto interessante che può rivelarsi utile anche per preparare decorazioni e finiture ad lavori di ricamo , di cartonnage, ecc..
I perfectly understand that one can far prefer embroidery (in whatever form and style ), or decoupage, patchwork or quilting or other art forms, but also the construction of a miniature dollhouse or just trying to reproduce the house of your dreams in miniature is something very fascinating!
For this reason , a few years ago in Boston , I bought myself a very interesting book that may prove to be useful also for preparing decorations and finishings of embroidery works , cartonnage works, etc. ..
Je comprend bien qu'on peut totalement préférer la broderie ( n'importe sous quel style ), découpage, patchwork ou quilting ou bien d'autres formes d'art, mais la construction d'une maison de poupée en miniature ou tout simplement la reproduction de la maison de vos rêves en miniature est quelque chose de très fascinant!

Pour cela, il y a quelques ans à Boston , je me suis fait cadeau de ce livre très intéressant qui peut s'avérer utile pour préparer aussi de petites décorations et finitions de travaux de broderies, de cartonnage, etc ..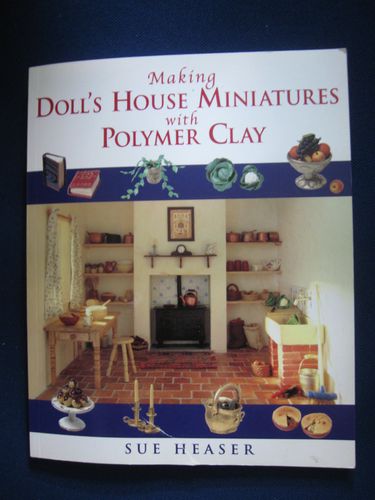 Sue Heaser è un'artista ed insegnante inglese di Belle arti , che da anni (1981) segue e sviluppa questa tecnica utilizzando il Polymer clay,un'argilla modellabile , sintetica molto simile al "Pongo " della nostra gioventù e che da noi viene interpretata con marche europee come Fimo o Cernit . Ne esistono ,negli USA in particolare , diverse marche di qualità diversa ed alcune di gran lunga migliori delle altre.
In questo libro , ci sono le tecniche più semplici ed anche molto simpatiche per ricostruire interi ambienti della casa , del giardino e perchè no, iniziare anche dei piccoli quadretti di attività commerciali, come panettiere, fruttivendolo, ecc..
Sue Heaser is an English artist and teacher of Fine Arts, who since 1981 is following and developping this technique using polymer clay, synthetic clay that we replace with European with European brands like Fimo or Cernit. There are, in the U.S. in particular, several brands of different quality and some far better than the others.
In this book, there are the simplest and very nice techniques to rebuild entire areas of the house, garden and why not to start to build up small commercial activities as a baker's shop , or a greengrocer's one , etc. ..
Sue Heaser est une artiste et professeur anglaise des Beaux-Arts qui a développé pendant des années (1981) la technique avec de l'argile polymère, pâte à modeler, synthètique que nous utilisons sous la forme Fimo ou Cernit. Il ya, aux États-Unis en particulier, plusieurs marques de qualité différente , certaine meilleures que les autres.

Dans ce livre, il y a les techniques les plus simples et aussi très agréables, toutes pour la reconstruction des pièces de la maison, jardin et pour commencer aussi à realizer petits coins d'activités commerciales, comme la boulangerie , l'épicierie, etc ..
ALCUNE IMMAGINI DEL LIBRO PER DARVI UN'IDEA - Quelques images du livre pour vous donner une idèe -
Some photos of the books just to give U an idea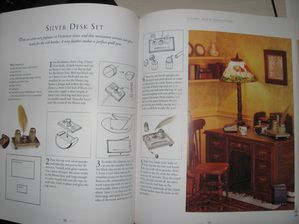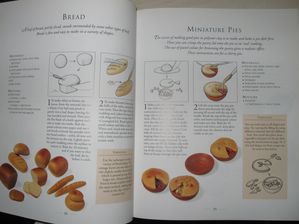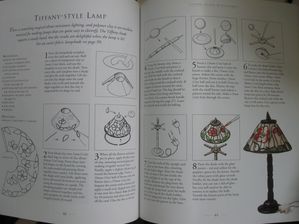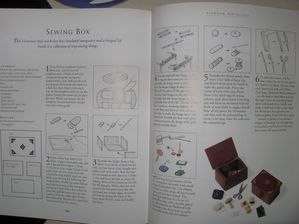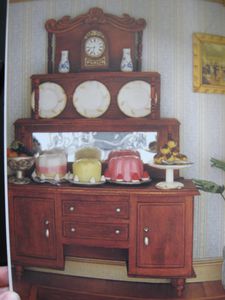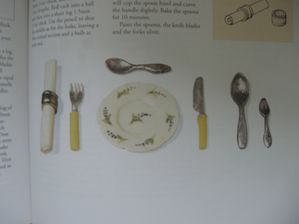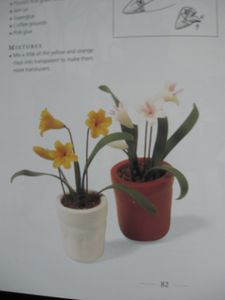 Qualcosa di utile- something helpful -quelques choses d'utile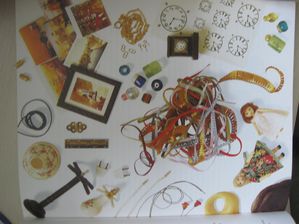 (1)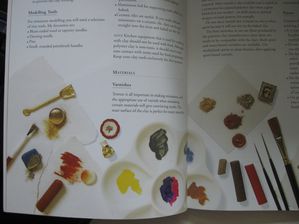 (2) (3)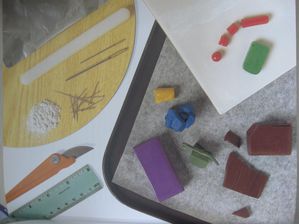 Riproduzione di un arancio e di un limone visti durante un viaggio di Sue in Italia - During a trip to Italy, Sue admired a lttle orange tree and a little lemon tree and reproduce them . Pendant un voyage un Italie, Sue a vu et apprecè les petits arbres d'oranges et de citrons et elle les a reproduit!!