31 agosto 2010
2
31
/

08
/

agosto
/

2010
11:22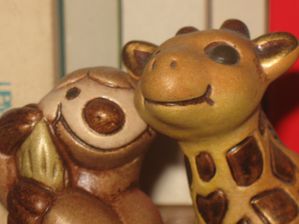 Gli amici sono sempre belli e sono ancora più belli quando viaggiano e ti portano dei "pensierini" , cioè dei regali carini. Questo è il caso di Cristina che è appena tornata da quasi 20 giorni di Mongolia, mi ha fatto scoprire alcune realtà della Mongolia veramente interessanti , come :
la GHER , la tipica casa dei mongoli
Il est bien avoir des amis qui voyages et qui te prendent de jolis cadeaux de retour de leur tours à l'etranger. Voilà que Cristina , de retour de ses presque 20 jours en Mongolie , m'a fait cadeau de la jolie miniature de la maison typique des mongols , la GHER .
It's nice to have friends who travel alot abroad and come back with some little souvenirs/gifts for you! This is the case of Cristina, back from about 20 days in Mongolia from where she brought me a miniature of the typical mongol house, the GHER .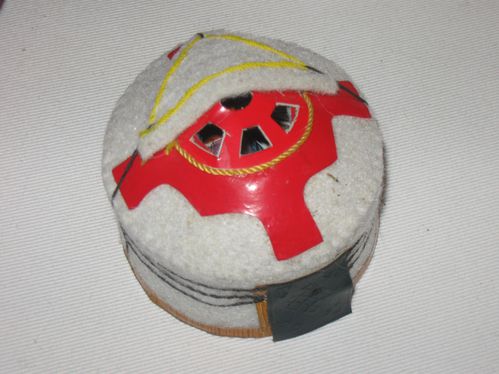 Questa è la miniatura della GHER , ossia la casa dei Mongoli da almeno oltre 2000 anni.
Il tetto e la casa circolare sono costuito da intelaiatura di legno interamente coperta da stuoie di FELTRO e PELLI impermeabili .
La Gher è alta circa 2,50 mt nella parte centrale e 1,5 mt sugli agoli e i laterali , mentre mediamente ha un diametro di 5,5 metri .E' veramente deliziosa ed accogliente .
La Gher est la maison des mongols depuis plus de 2000 ans . Le chassis du Le toit et lde a maison de forme circulaire sont batis en bois, le toit est couvert par des nattes en feutre et des peaux impérmeables . La Gher est 2,50 d'hauteur au centre et environ 1,5 mt sur les coins et son diamètre est 5,5 mt. Vraiment pleine de chaleur !
The Gher is the house of teh mongols since over 2000 years . The frame of the roof and the round house is made in wood while the roof is entirely covered by huge FELT and waterproof SKINS mats. The Gher is about 2,5 mt high in the central part, 1,5 mt in the corners while its diameter is around 5,5 mt . It's really charming!
La porta è chiamata KHALGA,ed è sempre rivolta a SUD . Normalmente in legno e molto lavorata con disegni geometrici
La porte de la Gher est appelée KHALGA et elle toujours ouvert vers le SUD . Elle normalement fait en bois avec de jolis dessins géometriques dessus.
The door of the Gher is called KHALGA and is usually made in wood with nice geometrical designs carved on top.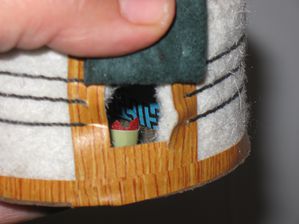 Come potete intravedere , anche in questa miniatura sono stati fatti gli arredi all'interno! La Gher è divisa in 3 spazi: 1 per gli uomini, 1 per le donne ed uno a Nord per gli ospiti o gli anziani ed i bimbi.
Al centro della stanza una stufa il cui tubo per il fumo passa attraverso il foro centrale.
Di solito la Gher viene trasportata da 2 animali (Yak ) avendo un peso di "soli" 200-300 kg.
Immagino vedere Gengis Khan o il Tamerlano muoversi dentro queste case molto minimaliste!
Comme vous voyez il ya des petites meubles là-dedans ! La Gher est divisée en 3 : 1 espace pour les hommes, un pour les femmes et un au Nord pour les hotes ou bien les personnes agées et les enfants .Au centre il y a la poele à bois et le tube qui passe par le trou au centre du toit. Habituellement la Gher est tarnsportée par 2 animaux (comme les Yak) puisque le poid est environ 200-300 kg.
je vois gengis Khan ou le Tamerlan se promener là-dedans...
As you can see also in this miniature furnitures are present ! The Gher is shared in 3 locations: 1 for men, 1 for women and 1 on the North side for the guests of the family old members or the children. in the centre is located the wood-burning stove and the smoke pipe sorting out from the roof hole.usually the Gher is transported by two animals(yak) having a weight of 200-300kg .
I can see Gengis Khan and the Tamerlan walking inside.....
*****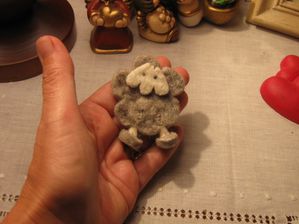 Ed ecco la spilla in feltro fatta dai Mongoli : una pecorella .
Sono molto forti nella lavorazione del feltro che serve loro soprattutto per riparo dai grandi freddi.
**
Et voilà une épingle en feutre fait par les mongols: un petit mouton .
Les mongols sont très forts dans le travail du feutre pour se réarer du froid .
**
Here is a little pin made with felt by the Mongols: a littel sheep
The Mogols are really expert in working felt cause the use it alot to get repaired from heavy cold.