5 marzo 2012
1
05
/

03
/

marzo
/

2012
15:51
Grazie di cuore a Françoise , un'altra amica francese che non ha un blog ma che propone dei lavori splendidi!!
Il suo pacchetto è arrivato oggi ed ecco quanto era ricco di belle cose: uno splendido copriteiera da lei cucito con fantasia dedicata ad un fiore che amo moltissimo, la rosa, e poi le sue cartonnettes per avvolgere nastri e passamanerie, le etichette anche fatte a mano e tutte in stile Maria Antonietta , il nastro double-face che si abbina anche benissimo con il bel ciondolo in vetro sulle tonalità del rosa (non vi sembra di vedere una scala dentro?) e poi gli adesivi ecolologici con gli uccellini, far i miei animali preferiti . Un biglietto pieno di topini mangioni corona il tutto! GRAZIE GRAZIE MILLE FRANCOISE!!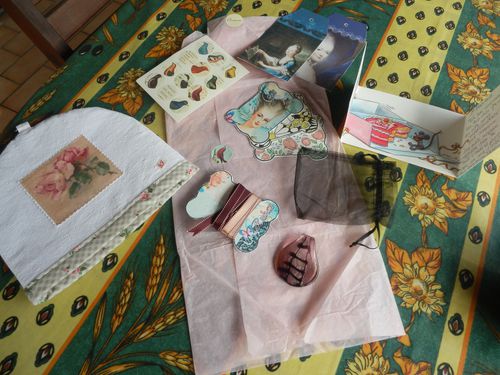 Thank you very much to my dear friend Françoise of France who hasn't got a blog BUT she can make beautiful items and send such beautiful gifts as these contained in my parcel. This rose beautiful Tea-cosy , a lovely glass pendant (don't you see a little staircase in there?) in rose too as well as the double-face ribbon wrapped around a cartonnette she made herself on the histical character of the queen of France Marie-Antoinette . The gift labels are also meda on the same theme . Eco-stickers with birds (I love birds) and a funny cake eating mice wishing card complete the rich parcel !! Thank you VERY MUCH, Françoise!!!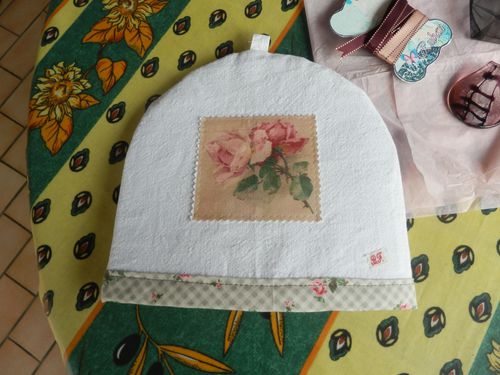 MILLE FOIS MERCI à FRANCOISE qui n'as pas de blog mais qui fait des choses formidables comme ce couvre-théière qu'elle a cousu sur le thème des roses(que j'aime beaucoup!), accompagné par un superbe pendant en crystal rose (il me semble de voir un escalier là-dessus..) et un ruban double-face autour une cartonette qui, avec 3 autres et les étiquettes pour cadeaux , expriment le thème de Marie Antoinette et son temps , des adhèsives ecologiques avec les oiseaux que j'aime beaucoup et une jolie carte pleine de petits souris qui mangeant le gateau!!! Un tas de jolies choses de cette nonne amie!! GROS MERCI, Françoise!!!