10 dicembre 2010
5
10
/

12
/

dicembre
/

2010
11:40
Ed ecco un favoloso , primo, regalo di Natale !!!
Il pacchetto è stato aperto subito , senza indugio, anche perchè mia sorelal Flò ha pensato che potesse servirmi già prima di Natale... ed è vero!
And here a wonderful Xmas gift, the very first one!! The packet has been immediately open without delay , also because my sis Flò told me I might have needed to use it before Xmas... and she was just right!
Voilà le premier super cadeau de Noël reçu! Le paquet a été ouvert immédiatement , dare-dare, puisque ma seour Flò a pensé que le conteu pouvait être utile avant Noël et ... ella avait raison!!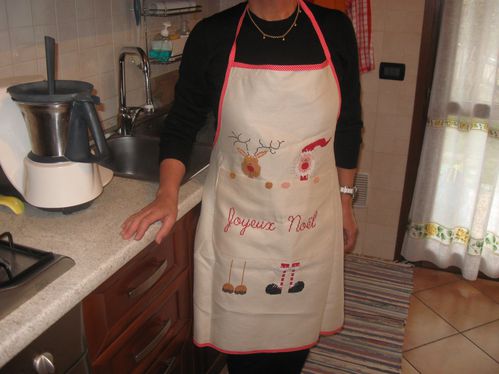 Super Grembiule natalizio con una renna perplessa guarda un Babbo Natale ..schizzato !!!!!
Super nice Christmas apron with a rather puzzled reindeer while watching at a frustrated Santa !! Un super tablier de NOEL avec la renne perplexe de voir un Père Noel si frustré!!
Bravo, Flò!!!