11 maggio 2010
2
11
/

05
/

maggio
/

2010
08:50
Visto il felice risultato del primo Gatto "profumato", ho deciso di riproporlo .. in serie.
Questo è il secondo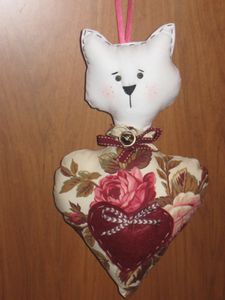 Come avrete già visto nel gatto precedente , la sagoma del corpo contiene imbottitura sintetica ma in mezzo ad essa è nascoto un sacchetto di lavanda profumata : Non è perefttissimo ma comeunque mi sembra simpatico , carino ed anche utile .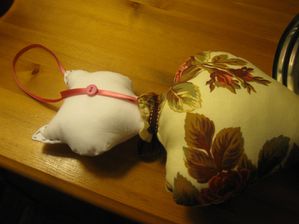 Per appenderlo ho fatto passare da dietro un nastro di raso fissato al collo e dietro la testina con un bottoncino in tinta.
****
Étant donné le succès du premier chat "parfumé" ,j'ai décidé de le proposer une nouvelle.. série.
Ici , le deuxème
Comme vous l'avez déjà vu dans le chat précédent(voir catégorie "CUCITO"), le corps contient rembourrage syntétique au milieu duquel , caché,il ya un petit sachet de lavande parfumée .
Le chat n'est pas si parfait, mais il a l'air sympa , agréable et il est aussi utile.
J'ai accroché derrière un ruban de satin attachée au cou et derrière la tête avec un bouton pour pendre le petit chat n'importe où.
********
Given the successful results of the first Cat "fragrant", I decided to propose it again .. series.
This is the second one.
As you saw in the previous cat made (watch in category "CUCITO"), the shape of the body contains synthetic stuffing in the middle of which it is hidden a little bag with fragrant lavender It is not perfect but it seems nevertheless nice, friendly and even helpful.