27 luglio 2012
5
27
/

07
/

luglio
/

2012
11:45




Le vacanze al mare sono ormai trascorse e molto bene ! La Sardegna è rimasta nel cuore ancora una volta per la natura, il mare, la gente, il cibo, l'aria , il sole...e quindi mi piace ricordare attraverso qualche foto il panorama che avevo davanti stando sdraiata sul mio lettino in spiaggia, il mare e la Tavolara e qualche altro angolo di questo piccolo Paradiso.
Sea holidays are now over , 15 days of simple relax in the middle of a wonderful wild nature, a deepgreen-blue sea, lovely people, nice food ,a huge sun shining,..and I like to remember just in a few shots the landscape from my sun bed on the beach in front of the Tavolara mountain isle and some 2corners" of this little paradise.
Les vacances à la mer sont terminées et tout est allé très bien! La Sardaigne est dans mon coeur avec sa nature sauvage, la mer, les gens, la nourriture , le grand soleil , le mistral et la ... paix! Donc , voilà quelques photos pour me souvenir du panorama que j'avais de mon mon lit de plage ainsi que les photos de quelques jolis coins de cette region , un petit paradis.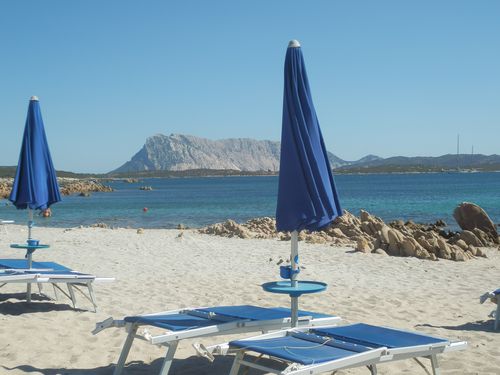 In una natura quasi selvaggia anche le costruzioni di hotel e case rispetta l'ambiente che li circonda .. sembrano tante grotte fra gli alberi di un'enorme pineta!
In the middle of a wild nature , also local construction along the sea coast respect the environment .. they look like many little caves inside a pine wood ..
Au milieu d'une nature sauvage, les constructions surtout lelong la mer semblent respecter parfaitement l'habitat terrestre et elles semblement de petites grottes perdues dans le vert d'une pinète.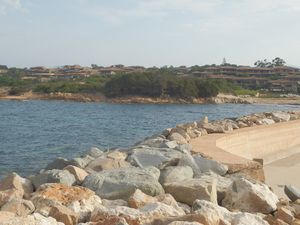 Fiori e mirto dappertutto non a decorare ma a festeggiare la natura ..
Flowers and mirthle plants everywhere to decorate and celebrate Nature..
Fleurs et plantes de myrte partout passeulement pour décorer mais aussi pour célebrer la Nature..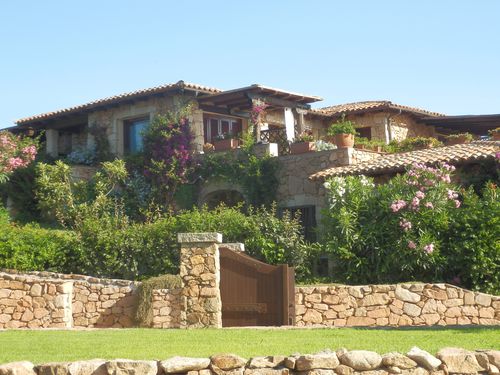 Non potevano mancare in rada qualche "piccola" barchetta a motore...
We could not but watching some "little" motor boats...
On ne pouvait pas éviter de regarder de "petits" bateaux à moteur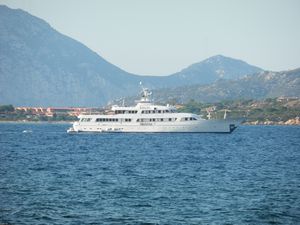 e qualche vela d'annata... questa è datata 1926!!
and some dated sailboats ... like this double-masted barque built in 1926!!
et des voiles datées .... comme celle-ci construit en 1926!!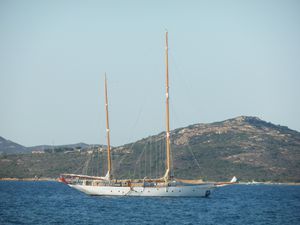 Una gita ed ecco dal belvedere di Punta dell'Orso , l'isola della Maddalena, quella di Caprera e infondo in fondo .. la Corsica!
A tour along the Emerald Coast , The BEAR POINT , where I could see the isle of Maddalena, the isle of Caprera and , very far , Corsica island
Un tour sur la côte émeraude, le POINT DE L'OURS, d'où on voit l'ile de La Maddalena, l'ile de Caprera et loin on voit la Corse!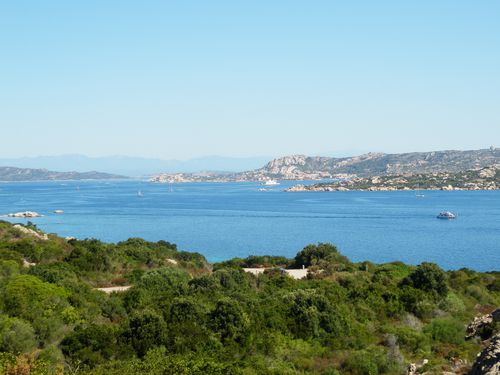 sembra ci sia una tataruga di pietra!
Look like a stone tortue is walking around..
il semble de voir une trotue en pierre qui se promene..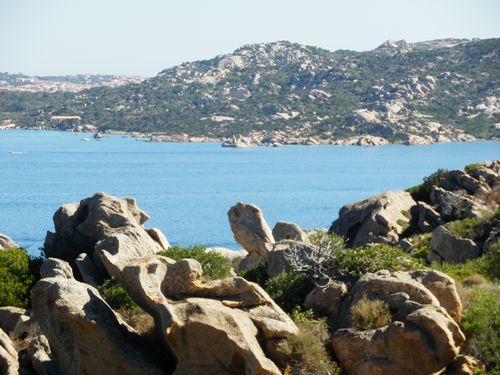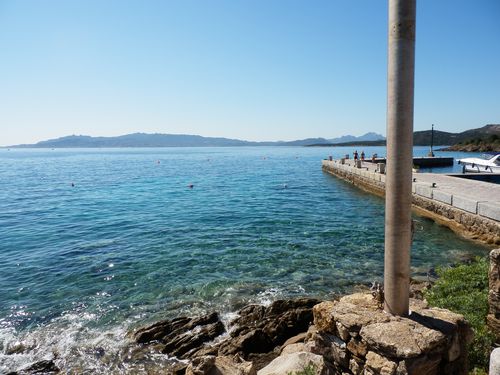 Porto Cervo -la Marina /The Harbour / le Port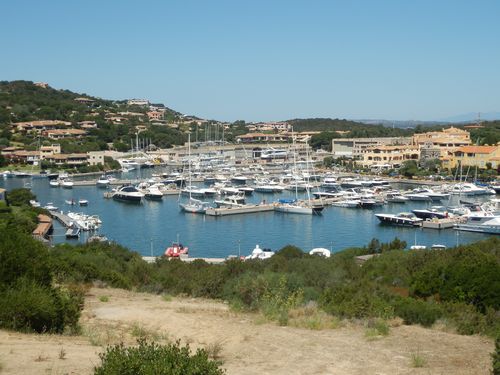 STELLA MARIS , la Chiesa di Porto Cervo in Costa Smeralda edificata alla fine degli anni '60 . Semplice e molto suggestica che domina il porticciolo di P.Cervo
the church Stella Maris of Porto Cervo built at the end of the '60s. Simple and charming dominating the harbour
L'èglise Stella Maris de Porto Cervo, batie les années 60 , simple mais charmante dominant le port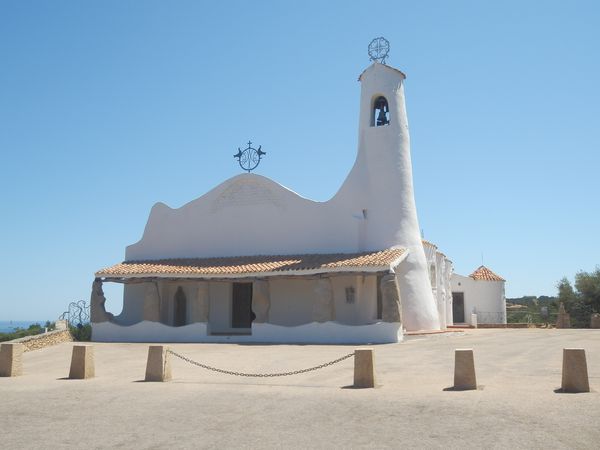 Il Campanile della Chiesa di Porto Rotondo eretto nel 2008 , interamente in legno con 4 campane ed un altezza di 22 metri . Pezzo unico al mondo per il materiale in cui è fatto, legno , e per le dimensioni. molto bello!
Porto Rotondo church tower , built up in 2008 , it's a unique example in the worrld of wood bell tower , 22 mt high .
Le clocher de l'eglise de Porto Rotondo , bati en 2008 , example unique au monde de clocher en bois de cet hauteur , 22 mt.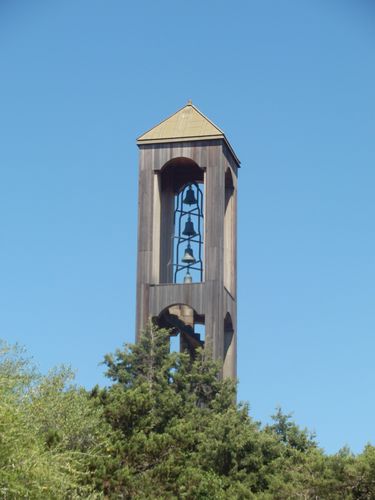 Qualcosa di un pò meno spirituale a Baja Sardinia: la Fortezza napoleonica ai piedi della quale uno dei migliori hotels della zona
Something less spiritual in Baja Sardinia : the Napoleonic fortress , at its feet one of the best lux hotels of the Emerald Coast .
Moins spirituelle cette forteresse de Napolèon aux pieds de laquelle on trouve l'un de dmeilleurs hotels de la côte émeraude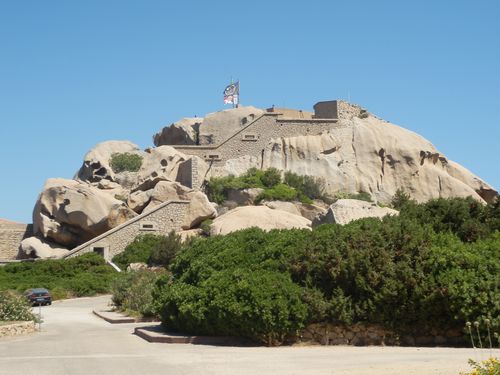 Cannigione un negozio di articoli artigianali della Sardegna li pubblicizza sui propri muri!
Cannigione , a souvenir shop is advertisin its items first on its walls!
Cannigione, un magazin fait de la publicité à ses produits d'abord sur ses murs!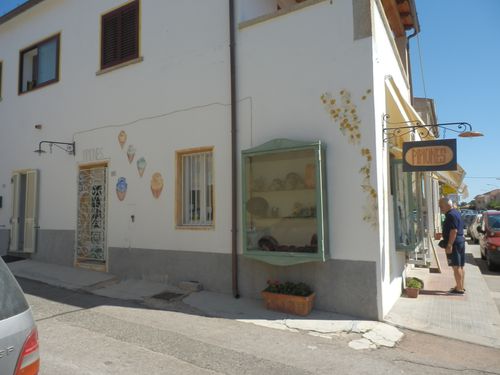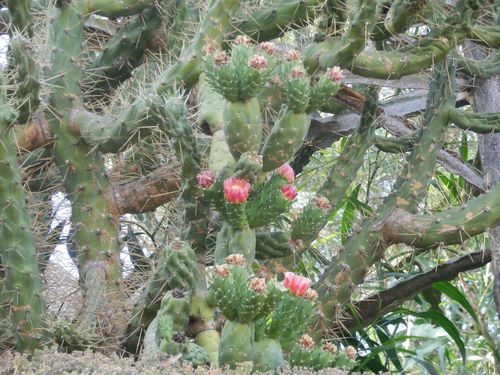 Fichi d'India ovunque , grandi e piccoli, tutti con frutti e qualcuno con il fiore , splendidi!
Prickly pears everywhere , big and small, all with their fruits , some with flowers, wonderful!
Figues de Barbarie, grands et petits avec les fruits et , quelqu'un avec le fleur , magnifiques!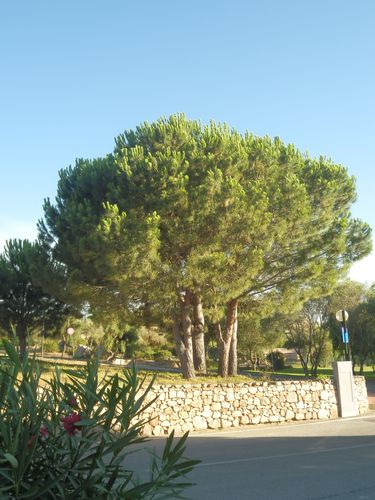 Pini marittimi ed oleandri/Clluster pines and rose-bay plants
Pins maritimes et oleandres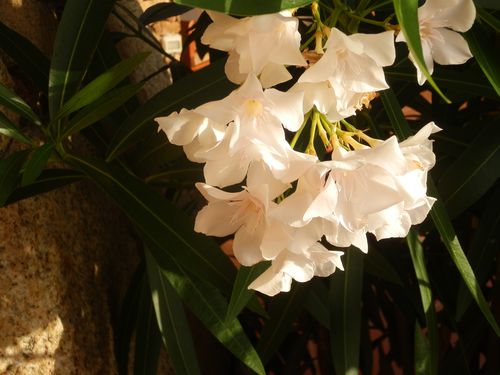 Bouganville......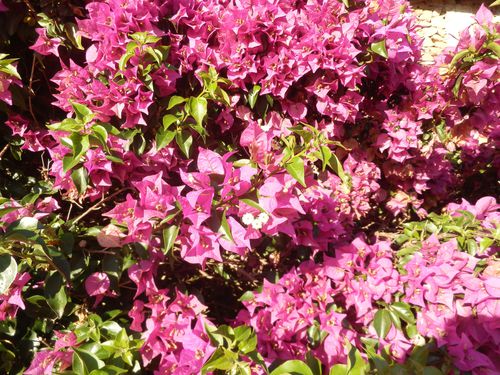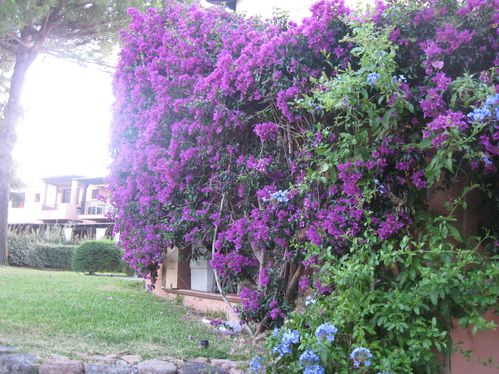 Lantana.......