27 ottobre 2011
4
27
/

10
/

ottobre
/

2011
13:05
Anticipando un poco il Natale mi sono fatta un piccolo regalo (sì,.. un altro!)
Anticipating Christmas time, I made a present to myself (yes, .. another one!)
J'ai anticipé le NOEL et je me suis fait un cadeau (un autre , vous direz!)
Eccola , la taglierina a compasso rotante per tagliare forme circolari su tutti i tessuti (feltro compreso)
Here it is a Circle cutter with rotary cutter blade to cut circles out of any fabric , felt included
Le voilà, le Couteau rotatif circulaire pour couper de circles en/de tissu (y compris la feutrine)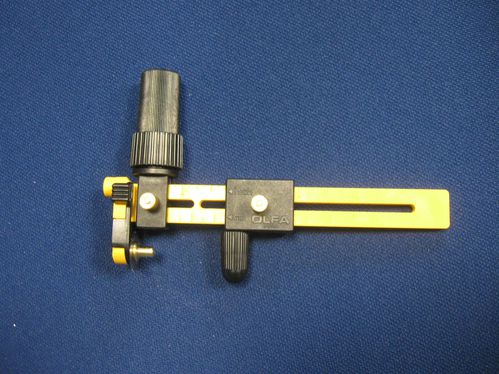 Si possono fare cerchi di tessuto di varie misure -You can make circles of different dimensions- On peut faire de cicles de différantes méasures
Occorre stabilire la dimensione del cerchio che si vuole avere e muovere avanti indietro il blocco dove è inserito l'ago fino a trovare la misura giusta (sia in inch che in cm) . Poi, bloccare il tutto bene con la vite e quindi puntare "l'ago" (che è MOLTO appuntito !)nel tessuto .
Decide the dimension of the circle ,adjust the compass needle to find the circle size required (in inch or in cm). Then , fix it very weel turning the screw properly , point the very pointed needle in the fabric.
Decidez votre mèasure du circle , réglez la pointe du compas à la taille souhaitée du circle et fixer le en serrant la vis bien. Pointez l'aiguille (TRES pointue ) dans l'étoffe .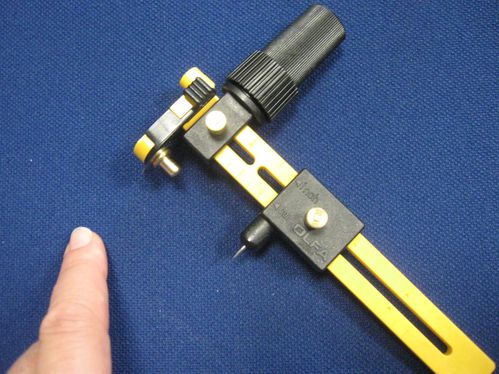 Tenendo fermo il blocco dell'ago , fate girare in tondo il braccio con la rondella /lama a 360° e il gioco è fatto.
ovviamente per fare cerchi in stoffa di varie dimensioni si possono usare strumenti anche molto più semplici come piattini di varie dimensioni, ma il problema è che poi bisogna tagliarli tutti a mano (vedi una coperat fatta di Yo-yo!!!)
Firmly keeping the needle bloc, turn the bar with the blade all around and ..it's done!
Of course you can avoid spending further money by using little dishes and saucepans of various dimensions, but the problem is later to cut them around and when you have to do a 100 Yo-yo blanket .. well, the hand cut will take much time!
Prenez le bloc de l'aiguille bien ferme , puis turnez 360° le bras avec la lame roulante et le jeu est fait ..
Biensur, si vous ne voulez pas depenser encore de l'argent , on peut toujours utiliser les plats et les soucoupes mais il faut faire attention si on doit couper 100 Yo-yo .. ça prend du temps les couper , tous!!