7 settembre 2010
2
07
/

09
/

settembre
/

2010
11:25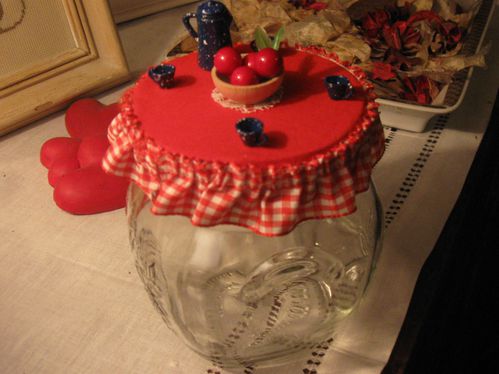 Un'idea simpatica per valorizzare un anonimo barattolo in vetro (da conserva) e farlo diventare anche un piccolo regalo se si riempie di caramelle o biscotti per esempio.Fra l'altro è una cosa veramente molto veloce (neppure 1 ora) e se siete fantasiose potrete fare diverse combinazioni.
In aggiunta a questo servizio da caffé ed alla ciotola in legno per la frutta , ho tagliato un piccolissimo disco di pizzo (centrotavola) , utilizzato delle mini bacche di Natale in polistirolo smaltate e tagliato da alcune foglie di fiori in plastica , delel puntine che facessero da foglie vere e proprie .
******
A cute idea to optimize an anonymous aseptic glass jar and turn it into a potential gift , for instance, filling it up with candies or cookies... It's a very quick idea (not even 1 hour) and if you put some fantasy in yoru project you can diversify as much as you like.
In addition to the small kettle , the four mugs and the fruit wood-made bowl I cut a small round piece of lace (under the bowl, placed 4 tiny Christmas synthetic berries in the bowl and from plastic green leaves I cut a couple of leaf-shaped pieces.
Une jolie idée pour rendre un pot en vitre pour confiture , complétement anonyme, dans un possible cadeau si biendécoré et rempli avec des bombons ou des biscuits .Il est très vite à réalizer (meme pas 1 heure) et si vous jouez avec votre fantasie , vous pouvez en faire de différantes conmbinations.
J'avais déjà le boulloire et les quatre tasses et la petite bol en bois , donc j'ai ajouté un morceau rond de dentelles (sous bol) , les pommes (de petites baies synthetiques de Noel) et les feuilles (coupées de fleurs et feuilles en plastique)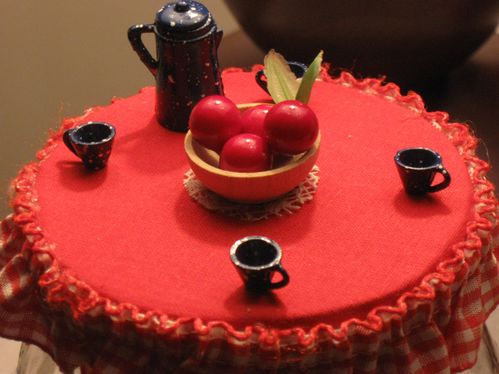 Ingredienti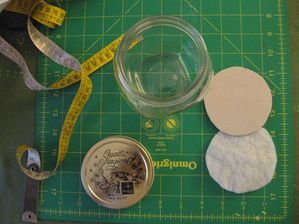 1 barattolo in vetro (quello delel conserve va benissimo)-1 glass jar-1 pot en vitre
1 cartoncino leggero- 1 small piece of light cardboard- 1 morceau de carton fin
1 pezzo di stoffa in cotone in tinta unita o fantasia-1 piece of cotton fabric at yr choice-
1 morceau d'étoffe en coton à votre choix
1 nastro o della passamaneria in tinta con il tessuto cotone-1 trimming piece at yr choice-1 galon à votre choix
Colla-glue-colle
1. Tagliare un disco di cartoncino delle dimensioni esterne del coperchio.
Cuta cardboard circle of the lid outside dimensions
Couper un cercle de carton à la dimension du dessus du couvercle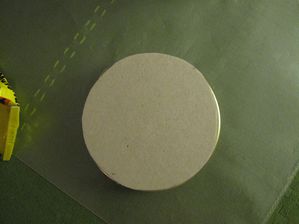 2. Tagliare un disco di tessuto in cotone più grande del coperchio(usate le misure di un piattino del caffé.
Cut a circle of cotton fabric of bigger dimension than the carton one (a saucer could be helpful)
Couper un cercle d'étoffe en coton plus grand que celui en carton (un sous-tasse à cafè pourrait vous aider)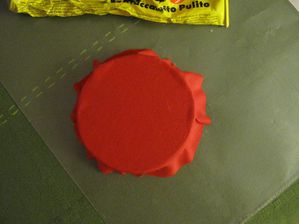 3. Incollare il disco in tessuto sul cartone.
Glue the fabric circle on top of the cardboard circle.
Coller le tissu sur le cercle en carton
4. Incollare il cartone e il tessuto sul coperchio , ripiegando ed incollando il tessuto in eccedenza sui bordi
del coperchio .
Glue the carton and fabric circle to the lid , folding down the exceeding fabric all around the edge
Coller le cercle en carton et tissu au couvercle , rebattant le tissu tout autour le pourtour du couvercle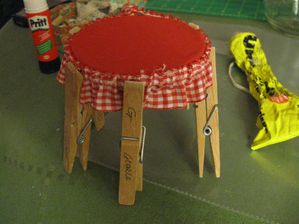 5. Incollare tutto intorno al bordo il nastro o la passamaneria scelta . Fissate il nastro temporaneamente con delle mollette o con un elstico per qualche minuto.
Glue the ribbon/trimming all around the lid edge . Fix it temprary with pins or an eleastic for some minutes
Coller le galon tout autour le bord du couvercle et garder-le pour quelque minutes, pour qu'il se fixe, avec des épingles ou bien un élastique
6. Togliete mollette o elestico e decorate il piano della "tavola" secondo i vostri gusti e i vostri accessori!
Take the pins/elastic off and decorate the table as you like !
Enlever les épingles /élastique et dècorer avec votre fantasie et selon votre gout!