7 giugno 2010
1
07
/

06
/

giugno
/

2010
13:48
SPERO DI NON ESSERE L'ULTIMA AD AVER VISTO QUESTO FILM DI PRODUZIONE FRANCESE, VERAMENTE CARINO ED ESTRAMEMENTE ESILARANTE
J'espère de ne pas etre la dernière à avoir vu ce film de production Française , si joli et extremement amusant
I hope I'm not the last person to have seen this movi, French production, very nice and amusing .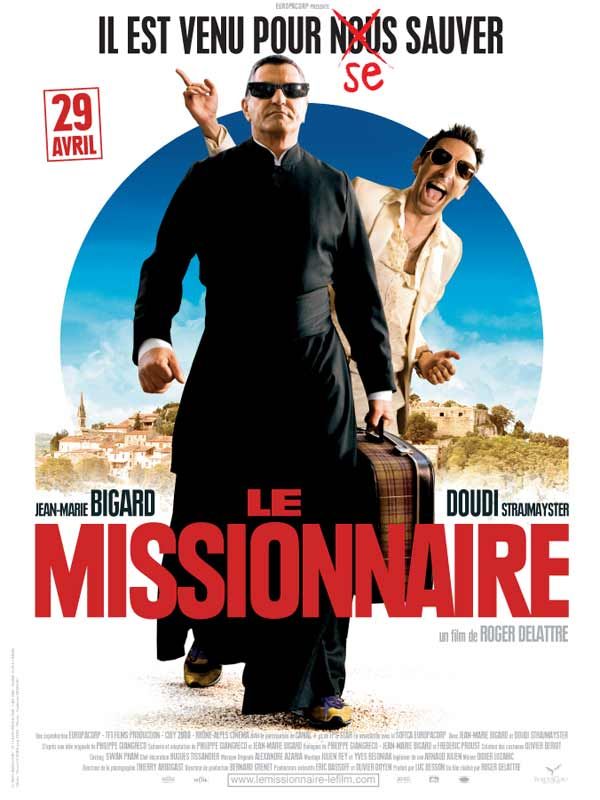 Uscito nell'Aprile del 2009 , un film senza troppi rompicapi e fiolosofie , se non quelal spiccia di un ex detenuto che per difendersi dai suoi ex-soci di rapina si traveste da prete , grazie all'aiuto di suo fratello Patrick vero preteche lo manda in un paesino dell'Ardèche ad aiutare il parroco nelle sue funzioni. Ma quando arriva , Padre Etienne è morto e gli abitanti del viaggio scambiano "Mario" per il sostituto del curato morto e là, ... allora . Da vedere , perchè film pulito , divertente ed anche con qualche buon significato sociale importante.
Commenti?
Film sorti en Avril 2009 , il est bien fait , simple sans trop de dilemmes psycho ou philosopique (donc pas un film d'essai..) avec la philosophie de tous les jours, avec l'ex prisonier Mario (JM Bigard) qui sort de la prison mais il est toujours suivi par des copins de la mala . Graze à son frère Patrick, un vrai pretre, il se camufle comme un curé et part pour joindre un petit village de l'Ardèche et , pour quelque temps, aider le curé Péere Etienne. Mais comme il est là, Mario decouvre que le curé est mort et les gens du village le croyent le nouveau curé ... et alors, là il fau absolument rire pour ce film simple et linéaire avec aussi quelques bonnes valeurs sociales.
Commentaires?
Film of April 2009 very nicely made and played by good French actors , with no many psycho and philosophic meanings but with an every-day philosophy of life where the former prisoner "Mario" (JM Bigard) comes out after 7 years prison and wants to get rid of his old bad companions . So he asks his brother Patrick , a real priest, to help him . Mario camouflated as parish priest is sent in a little village of the region of Ardeche to help the local vicar , Father Etienne. that Mario discovers just died while the people of the village believe he is the new vicar of the village parish .. and here you start really to laygh and appreciate this clear simple and linear movie with some good social meanings specially at the end.
Comments?