4 giugno 2010
5
04
/

06
/

giugno
/

2010
12:38
Non posso evitare di farvi vedere una serie di GREMBIULI proposti dalla rivista
americana Country Living . Alcuni si rifanno ad epoche molto remote ma sono stati "rivisitati" e
resi attualissimi. Molti di loro, con le vostre mani d'oro, possono essere decorati con finiture diverse, cuciture particolari, piccoli ricami e piccoli aggiustamenti oltre che a nastri e bottoni e quindi diventare "opere vostre".Alcuni sono veramente carini .
I couldn't avoid to show you a littel gallery of pretty APRONS proposed by the US magazine
Country Living .
Some of the models date back to different ages of the past but having been "revised" , they seem to be really up-to-date. Furthermore, most of them could be modified , decorating ( with your golden hands) with particular finishings and sewing, small embroideries in addition to ribbons, trimmings and beautiful buttons .Little changes which can turn each apron in your own masterpiece!
Je ne peux pas éviter de vous montrer quelques jolis tabliers que le magazine américain Country Living nous propose . Quelques uns appartiennent à des époques passées mais puisque les models ont été révisés , ils sont vraiment à la page ! Et encore la plus part d'eux pourrait etre modifiée avec vos mains d'or à travers des décorations, de petites coutures, de petits travaux de broderie , et naturellement en ajoutant des rubans, des galons, de jolis boutons. Tout pour donner une petite touche perso et rendre chaque tablier votre chef-d'-oeuvre!!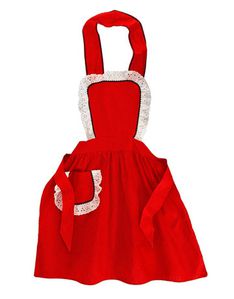 Anni '40 : quando il loro Carlo (nome fittizio) stava marciando per tornare dal fronte nuovamente a casa , le donne volevano avere un bell'aspetto . Un prodotto fatto a mano che indica una svolta, in quesgli anni, dell'uso del grembiule : non solo util ma anche un prodotto alla moda e da esibire.
Années '40 : quand leur Antoine(nom faux) marchait du front pour retourner à la maison, les femmes voulaient avoir un joli aspect . Unproduit fait à la main qui montre le passage de l'utilisation du tablier de produit utile à produit à la mode .
'40s : When John (false name ) came marching home again , women wanted to look good. This apron is handmade and heralds the apron's shift from utilisation to fashionable.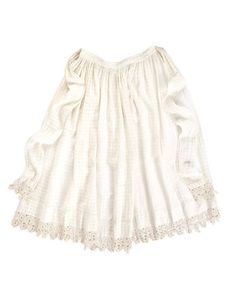 1900 . Agli inizi del nuovo secolo le donne (o le loro cameriere ) coprivano le loro gonne lunghe con grembiuli cuciti a mano con cotone robusto e rifiniti con pizzi e trine altrettanto fatti a mano.
1900. Au debut du nouveau siècle les femmes (ou bien leur bonnes) covraient leur longues joupes avec des tabliers cousus main et décorés avec des galons , rubans et dentelles fait par eux memes .
1900. At the beginning of the new century, ladies (or their maids) used to cover their long skirt with handmade aprons of sturdy cotton decorated with also handmade laces, then trimmings and ribbons.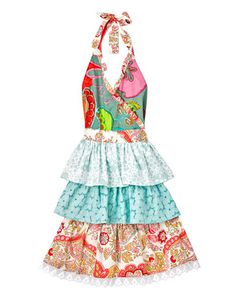 Un grazioso grembiule un pò anni '70 , cucito a mano, usando stoffe di fantasie e colori diversi e rifinito con pizzo .
Joli tablier en style années '70 , avec des volants cousus avec pleusieurs tissus en fantasie et couleurs differants . Décoré avec dentelle blanche .
Pretty colourful apron which style dates back to the '70s , handmade rufles in different prints and colours and lace finishings
1930 . I fornitori per l'agrocoltura di quegli anni, attiravano le donne delle fattorie , durante la Grande Depressione, all'acquisto di sacchi di mangime per polli rivestendoli con tela colorata che poteva essere usata - dopo il sacco- anche per fare i loro grembiuli. Questo è un esempio!
1930- Les fornissuers agricoles des années ' 30 attirainet l'attention de femmes des fermes , pendant la Grende Depression, leur vendre des sacs de provende pour les poulets cousus en tissu coloré qui pouvait etre utilisé une dexieme fois comme tablier pour eux . Voilà un exemple!
1930. The agricoltural suppliers of chicken-feed sacks appealed to farm ladies of that period, during the Great Depression , selling them the sacks which printed and colourful fabric could be used a second time as apron for them. this is an example!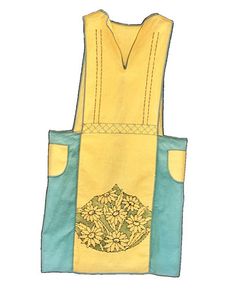 1920 . Un grembiule dalla linea dritta e piuttosto attillata in tessuto chiaro solare e fiori ricamati a mano sopra su un fondo più scuro . Questo modello fa mollto "ragazza del periodo del Charleston" ma piuttosto richiama il modello di ragazza dell'Era delel "Flappers" , ossia le giovani americane dei ruggenti Anni 20 con le gonne più corte , i capelli raccolti o tagliati corti , trucco e sigaretta, amavano il Jazz e snobbavano quello che si considerava uno stile di vita dettato dal perbenismo dell'epoca.Questo è un originale.
1920 . Un tablier avec un tracé linéaire , presque profilé en tissu clair et solaire avec une broderie main sur un arrière-plan foncé . Ce modèle est l'exemple concret et original de l'esprit de l'Epoque des Flappers , c0'est-à-dire les jeune-dames et filles des années '20 qui porter la joupe plus courte, les chaveux courts, le maquillage , fumaient les cigarettes , aimaient le Jazz et snobbaient ce qu'ell consideraient un style de vie dicté par la "respectabilité" .
1920s . A quite straight silhouette for this bright sunny fabric -made apron of the 20s, with a panle hand-embroidery infornt ona darker background . This original model of that time calls back to the "Flappers Era" , the time in which young women started wearing short skirts, bobbed their hair, used to make-up , smoked cigarettes , loved Jazz and rejected all what was considered as " an acceptable behaviour " of the society of the 20s.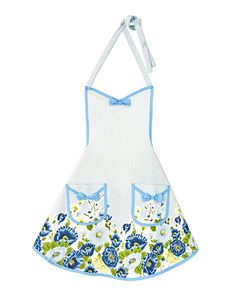 I fiocchi ed i papaveri blu rendono questo grembiule molto "frizzante" ed ultra femminile , anche quando
avete le mollette del bucato in mano!
Les rosettes et le coquelicots bleus donne l'air "pétillant" et ultra-feminin meme quand vous avez les épingles
à linge àò vos mains!
Blue ribbons and poppies grant this apron a very "sparkling" and ultrafeminine air even when you got clothepins
in your hands!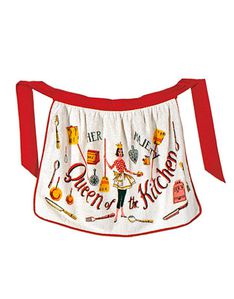 1960 o gli utlimi anni in cui si cercò di dare alla donna il titolo di "divinità della casa " (dea, reginetta, ecc..) Ecco un grembiule fatto con uno strofinaccio per i piatti in cotone assobente e ricamato con disegni domestici ed inneggianti alla ... regina della cucina
1960 et les dernieres années dans lesquelles on a cherché de donner et garder pour la femme le titre de "divinité de la maison"( déesse, reine..).
Voilà un tablier fait avec un torchon pour assiettes en coton absorbant et brodé avec des dessins tipiquement célebtants la...Reine de la Cuisine.
1960s and the last years in which it was tried to call woman as the divinity of the house (goddess, queen, ..)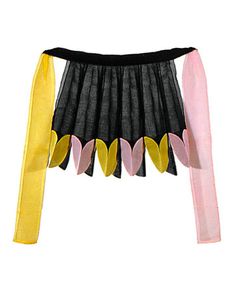 1950 . E' l'epoca in cui piace intrattenere gli amici a casa con qualche buon piatto .. appena inventato con nuovi prodotti sul mercato e niente di meglio che cucirsi questo simpatico grembiule in lino con con piccoli tulipani colorati su fondo scuro.
1950 . C'est le temps dans lequel on aime inviter les amis chez soi pour le gout d'essayer et servir des assiettes nouvelles et rèalisées avec des produits nouveaux sur le marché. Et il fait plaisir inviter en montrant un joli et raffiné tablier en lin décoré avec des tulips colorés sur un arrière-plan foncé.
1950s . It's the time of inviting friends at home and taste on them new recipes made with new ingredients arrived on the market and showing a lovely handmade apron in linen decorated with colourful tulips on dark background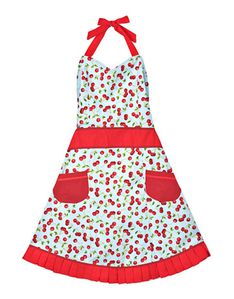 Un grembiule dal sapore estivo, con tante ciliege e rifiniture in rosso , anche un pò anni '50.
A tablier de la saveur d'été, avec un tas de cerises et finitions en rouge un peu années '50.
A real summer apron with lot of cherries over and bright red finishings recalling the 50s.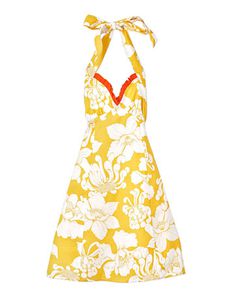 Per cucinare in un'estate calda senza perdere lo charme anche fra i fornelli!
Pour faire de la cuisine dans un été très chaude sans perdre son charme meme devant les fourneaux!
During a very hot summer without losing one's charming aspect even before a stove!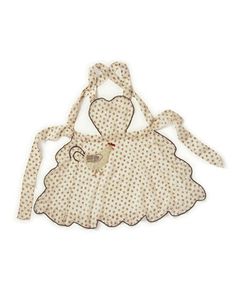 Questo dolcissimo grembiule disegnato negli anni '40 e portato avanti anche nei '50 con delizioso con pettorina a cuore in cotone popeline.
Ce délicieux tablier dessiné dans les années '40 et utilisé aussi dans les 50 avec bavette à coeur . Tout en coton Popeline .
This charming apron disegned in the '40s and used in the 50s too, has got a nice heart-shaped front and is made in Popeline cotton.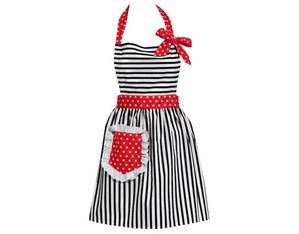 Credo che ogni hostess vorrebbe indossare un grembiule così raffinato , professionale ed assolutamente
molto femminile!
je crois que toutes les hotesses aimeraient se mettre ce tablier si raffiné, professionnel et aboslument
charmant et feminin!
I think that all hostesses would like to wear this apron , so fine, professional ,very charming and feminine!