17 aprile 2013
3
17
/

04
/

aprile
/

2013
09:03
RHODODENDRON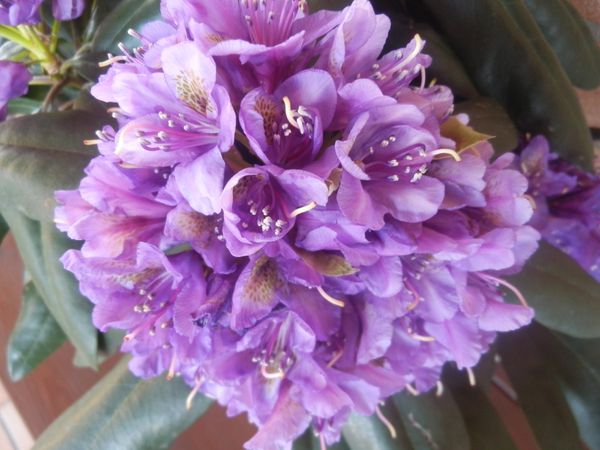 (Foto Gloria 14/04/2013)
Il RODODENDRO, come l'Azalea , appartiene alla Famiglia delle Ericaceae. E' un genere di albero/arbusto composto da circa 500 specie diverse , decidue e sempreverdi , rustiche e delicate
La parola RODODENDRO deriva dal greco RHODON (rosa) e DENDRON (albero) ed una pianta originaria dell'Asia principalmente, in particolare delle regioni dell'Himalaya, Tibet, Cina , Birmania, India ed anche Nuova Guinea.
I Rododendri sono di altezza e dimensione variabili: possono essere piccoli arbusti o alberi alti 20 metri!
La maggior parte delle specie è SEMPREVERDE .nessuna delle specie ed anche degli ibridi si può dire veramente definire "delicata ". Infatti i rododendri da serra possono essere coltivati all'aperto purchè in condizioni riparate.
Molte specie non devono tuttavia essere messe in pieno sole o in balìa dei venti, quindi in posizioni ombreggiate e riparate .
I Rododendri , TUTTI, non devono essere coltivati innterreni calcarei ma in terreni ACIDI (il pH deve essere fra 5.0 e 6.5).
Le foglie sono a forma lanceolata e spuntano all'apice dei germogli annuali .
I fiori sbocciano di solito in posizione apicale , riuniti in infiorescenze o isolati. Possono essere campanulati o imbutiformi , a volte appiattiti o tubolsi . Poche sono le specie i cui fiori sono profumati, mentre la colorazione dei petali è molto varia: biana, rosa, lavanda, viola, porpora, gialla, cremisi, scarlatta e arancio .
Le innaffiature dono regolari in primavera ed estate , più diradate nelle stagioni fredde .
Nella foto, il mio piccolo Rododendro "SPLENDOR"
*************
***********
The RHODODENDRON , as well as Azaleas, belongs to the family of Ericaceae. It 'a kind of tree / shrub represented by about 500 different species, deciduous and evergreen, hardy and delicate

The name comes from the greek rhodon (pink) and dendron (tree) and it is a plant native of Asia mainly, in particular the regions of Himalayas, Tibet, China, Burma, India and even New Guinea.

The Rhododendrons are in height and size variables : they can be small shrubs or trees even 20 meters high!

Most of the species is EVERGREEN. None of the species and hybrids can be said truly defined as "delicate". In fact, the rhododendrons can be grown outdoors provided sheltered conditions

Many species, however, should not be placed under direct sunlight or at the mercy of the winds,but rather in shady places and repaired.

ALL Rhododendrons should not be grown calcareaous soils but in acidic soils (pH should be between 5.0 and 6.5).

The leaves are lanceolate and sprout from the top of the annual shoots.

The flowers usually bloom on the top of the branches , in inflorescences or isolated. They can be bell-shaped or funnel-shaped, sometimes flattened or tubulous There are few species whose flowers are fragrant, while the color of the petals is very varied: white, pink, lavender, violet, purple, yellow, crimson, scarlet and orange.

Regular waterings in Spring and Summer, Light waterings in cold seasons .
In the picture my PURPLE SPLENDOR Rhododendron.
*****
Le Rhododendron , comme l'Azalée, appartient à la famille des Ericaceae. C'est une sorte d'arbre / arbuste comprenant environ 500 espèces différentes, à feuilles caduques et à feuilles persistantes, robuste et délicat

Le mot dérive du grec Rhodon (rose) et Dendron (arbre) et une plante originaire d'Asie principalement, en particulier les régions de l' Himalaya, le Tibet, la Chine, la Birmanie, l'Inde et même la Nouvelle-Guinée.

Les Rhododendrons sont différants par hauteur et par taille: certains peuvent etre de petits arbustes , d'autres des arbres de 20 mètres!
La plupart des espèces est persistant. Aucune des espèces et hybrides peuvent être dit véritablement «délicat».
En fait, les rhododendrons de serre peuvent être cultivées à l'extérieur dans des conditions abritées .
De nombreuses espèces, cependant, ne devraient pas être placés en plein soleil ou à la merci des vents, et dans les endroits ombragés et réparés.

Tous les Rhododendrons ne devraient pas être cultivés dans des sols calcaires mais dans les sols acides (pH doit être compris entre 5.0 et 6.5).
Les feuilles sont lancéolées et poussent au sommet des pousses annuelles. Les fleurs fleurissent habituellement au top des rameux , en inflorescences ou isolées . elles peuvent etre en forme de cloche ou bien d'entonnoir , parfois aplaties ou tubuloses . Il y a quelques expeèces dont les fleurs sont parfumées tandis que la couleur des pétals peut etre bien différante : blanc, violet rose, lavande, pourpre, cremisi, écarlate et orange .
Aroser regulièrement en printemps et en Eté, décaler dans les mauvaises saisons .
Dans la photo, mon Rhododendron " Splendeur Pourpre"