3 maggio 2012
4
03
/

05
/

maggio
/

2012
11:17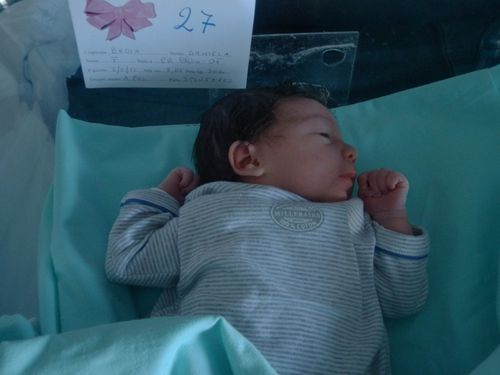 IRENE (03/05/2012 01:25 PM)
Un brevissimo messaggio per dirvi che sono diventata PRO-ZIA per la terza volta : stamattina alle 08h05 è nata IRENE , figlia di Daniela e prima nipotina di mia sorella Flò !! Pesa circa 3kg , è lunga 51 cm ed ha tanti capelli !!! Sono felice per Daniela perchè tutto è andato bene e gode di ottima salute, per gabriele il papà di irene che ha "eroicamente" seguìto il parto "in diretta" nella sala parto e sono contenta per tutta la Famiglia ... un bébé porta sempre tanto bene e felicità in casa!!!
A short message to inform you that I have become Great-aunt for the third time. At 08h05 AM little IRENE was born at the Main Hospital of Parma. She is the first daughter of Daniela , my sister Flò's daughter and of course the first grand -child of Flò!! She is 51cm (about 26 inches) long, 3kg weight and has got ... dark hair!!! I am happy for Daniela cause everything went well , for Irene's dad Gabriele who wanted to follow the delivery "on line" in the delivery room and for all the Family , because a new baby brings life and happiness at home!
Quelques mots pour vous dire que ce matin à 08h05 IRENE est née. Elle la petite à Daniela ma nièce et fille ° ma souer Flò que vous connaissez.Donc je suis "grande-Tanta" pour la 3eme fois et c'est dur cela!!! . Je suis contente pour Daniela , elle est bien et très heureuse naturellement ! Je suis contente pour le papà Gabriele qui a voulu suivre la naissance "en directe! et je suis contente pour toute la Famille puisque la naissance d'un bébé mène toujours du bonheur dans la maison!!
Ciao, Gloria