14 ottobre 2014
2
14
/

10
/

ottobre
/

2014
08:51
Credetemi , stamattina sono piuttosto sconvolta e senza parole davanti a quanto avvenuto ieri. il torrente Baganza a straripato, distrutto un ponte in città ed allagato parte della città. E' andata sott'acqua anche una centrale Telecom molto potente per cui da ieri pomeriggio alle 16h30 i telefoni fissi e cellulati Tim sono fuori uso!!! Nei quartieri alluvionati ,gli abitanti sono totalmente al buio ...Ma la cos più importante mia sorella Floriana e suo marito STANNO BENE ! Infatti loro abitano proprio in una via a circa 200 metri dal torrente e hanno avuto oltre 110 cm di acqua sotto l'appartamento e oltre 150- 170cm in giardino!ieri sera , attorno alle 9pm con Giorgio h guidato la mia mia auto (in modo fortuito) fino là e ho chiamato la Flò nel SILENZIO PIù TOTALE E NEL BUIO PIù TOTALE !!! ... ovunque acqua e fango e automobili accatastate , detriti ovunque ... NON AVEVO MAI CAMMINATO IMMERSA IN ACQUA E FANGO AL BUIO E VI GARANTISCO CHE E' TALEMNTE TRISTE E PARALIZZANTE DA NON CREDERCI!!! La Flò è apparsa alla finestra e mi ha confermato che tutto era Ok anche se ovviamente la voce tradiva l'emozione.. Mi sono tranquillizzata e ho fatto piano piano retromarcia... dopo 20 metri piangevo dirotto!
Believe me, this morning are quite shocked and speechless in front of what happened yesterday. the river to burst its banks Baganza, destroyed a bridge in the city and flooded part of the city. It 'also went under water a Telecom very powerful so yesterday afternoon at 16h30 landlines and cellulati Tim are out !!! In neighborhoods flooded, people are totally in the dark ...
But the most important thing isthat my sister Flò and her husband are fine ! In fact they live in a street just 1 block from the Baganza river and have had over 110 cm of water below the apartment and more than 150 to 170cm in the garden!
Yesterday night at about 9pm with Giorgio I drove my my car (I was lucky indeed) up there and I called Flò, my feet in the mix water/mud which arrived up to my knees, in a total silence and in a total darkness !!! Water and mud everywhere ... and cars piled, debris everywhere ... I NEVER WALKED SURROUNDED BY WATER AND MUD IN THE DARK AND I CAN GUARANTEE THAT ALL THAT IS TOTALLY PARALISING ,SAD ,UNBELIEVABLE ! Flò appeared at the window and she confirmed that everything was Ok although of course her voice betrayed emotion .. I calmed down and I slowly turned my car to go back home but... after 20 meters I was bitterly crying while Giorgio was trying to encourage me !
Croyez-moi, ce matin je suis trés choquée et sans mot devant ce qui s'est passé hier.
La rivière Baganza a débordé et a détruit un pont en ville et inondée une partie de la ville. Egalement allée sous l'eau une centrale Telecom et maintenant tous les cell et les tèléphones sont hors service !!! Dans les quartiers inondés, les gens sont totalement dans l'obscurité ...
Mais la chose la plus importante , je dois avouer, est que ma sœur Flò et son mari Luca sont bien ! En effet , ils vivent à environ 200 mètres de la rivière et ils ont eu plus de 110 cm d'eau en dessous de l'appartement et plus de 150 à 170cm dans le jardin hier soir!, vers 9 heures le soir avec Giorgio j'ai conduit ma voiture (j'ai eu de la chance) là-bas et j'ai appelé Flò trés fort dans le silence total et dans l'obscurité totale !!! L'eau et la boue partout ... et voitures empilées, débris partout ... je n'avais jamais marché entourée par l'eau et la boue dans l'obscurité et je vous garantis que c'est une situation "paralysante" , triste !!! Flo est apparue à la fenêtre et m' a confirmé que tout était OK même si
biensûr sa voix trahissait son émotion .. je me suis calmée et j'ai fait retour à la voiture ... après 20 mètres je'ai commencé à pleurer amèrement lorsque que Giorgio cherchait de m'encourager!!!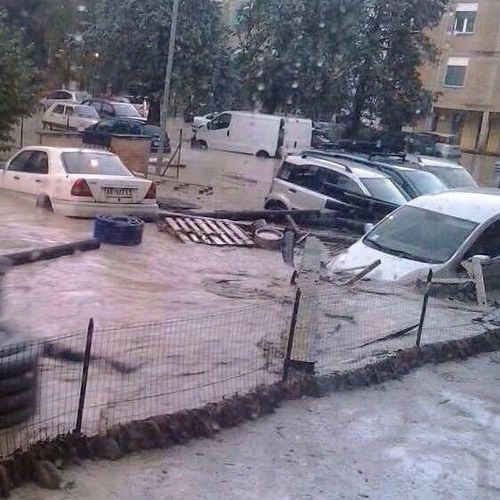 Vicino alla Flò- Near Flò's house - Près de Flò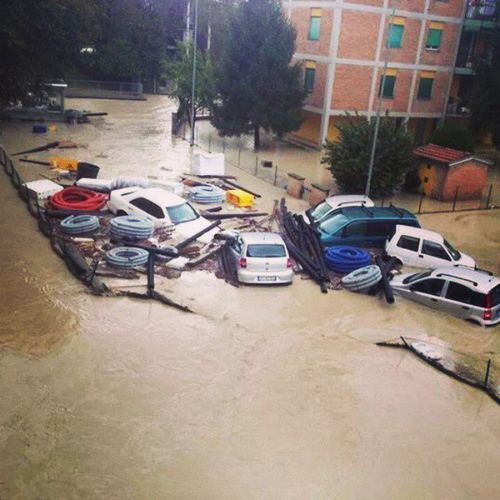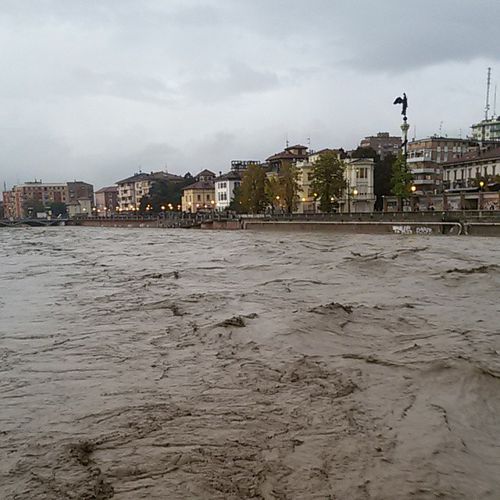 Anche il fiume PARMA ERA VERAMENTE IN PIENA (la Voladora)- The river PARMA crossing the city was going to flood as well- Le fleuve Parma aussi qui attraverse la ville était pret à déborder!