27 settembre 2011
2
27
/

09
/

settembre
/

2011
15:35
Grazie a Marie-Claude dai Paesi Bassi linkho ricevuto un altro invito ad una mia breve presentazione . Grazie, Marie-Claude , non fa mai male dare qualche notizia in più alle amiche che ogni giorno visitano il mio blog ! Sarà mia premura , "girare" questo invito a Arlette, Barbara, Coralie68, Magigia, Fafaruban,Lisette, Christine33 .
Sono nata a Parma anche se le origini della famiglia sono del Centro Italia (Umbria-Lazio). Sono nata il 1° Marzo (ma non vi dico l'anno) e quindi sono dei Pesci .
Vivo a Parma anche se la vita mi ha portato a vivere in Svizzera ed in Sud Africa ed a viaggiare .. parecchio!
A Parma , lavoro come Assistente di Direzione in una multinazionale svedese da parecchi anni .
Fuori dal lavoro di ufficio , oltre alla casa, mi dedico a 5 attività diverse che adoro: Giardinaggio , cucina, , lettura (storia in particolare), sport(palestra e bici da corsa) , lavori creativi.
Per quanto riguarda questi ultimi, amo ricamare punto croce e ricamo tradizionale, l'uncinetto , il decoupage , il cucito creativo , il Biedermeier , l'applique, il patchwork , creare decorazioni e.. il Natale!!
ciao, Gloria
Merci a Marie-Claude des Pays Bas linkj'ai été taguée pour la 2ème fois et cela me fais palisir puisque c'est une jolie façon de parler un peu de nous-mêmes et nous faire connaitre par les amies qui visite notre blog. Merci Marie-Claude !! je vais envoyer cet award à Arlette, Barbara, Coralie68, Magigia, Fafaruban,Lisette, Christine33.
Je suis née à Parme, Italie, même si ma famille vient du Centre de l'Italie (Ombrie-Latium) . Comme je suis née le 1er Mars (mais je ne vous dirai pas mon année!!) , je suis POISSONS .
Je vis à Parma mais j'ai vecu aussi en Suisse et en Afrique du Sud et voyagé beaucoup. Je travaille à Parma comme Assistante de Direction dans une mutinationale Suédoise depuis pleusieurs années.
Hors du bureau, après la maison je m'occupe de mes activités préférées : jardinage, cuisine , lecture ( histoire) , sport(gym et vélo), lorisirs crétaifs qui comprendent le point de croix et la broderie traditionelle, le decoupage, l'applique et patchwork, couture créative , Biedermeier , créer les décos pour tout événement et le NOEL!!
Ciao, Gloria
Thanks to Marie-Claude from the Pay-Bas link who tagged me for the 2nd time inviting me for a short presentation of myself. Tagging could be somehow boring but it's a good way to know more about other friends who come and visit your blog, therefore Thanks again Marie-Claude !
I am going to tag Arlette, Magigia, Coralie68, Barbara, Fafaruban, Lisette, Christine33 and hope they will enjoy it !
I was born in Parma, Italy lathough my family origins are from central Italy (Umbria & Latium) on March 1st (I won't tell U the year however..you know..) and therefore I am Pisces.
I live in Parma even if I have lived in Switzerland and South Africa and travelled a deal.
I've been working in Parma as Executive Assistant in Swedish multinational company for many years.
Out of my office, after home , I am involved in my favourite interests/hobbies: gardening, reading (history), cooking , sport (gym + sport bike) , manual activities & crafts such as X-stitching, traditional embroidery, decoupage, patchwork & applique, creative sewing , Biedermeier, decorations for all events and of course, CHRISTMAS!
Ciao, Gloria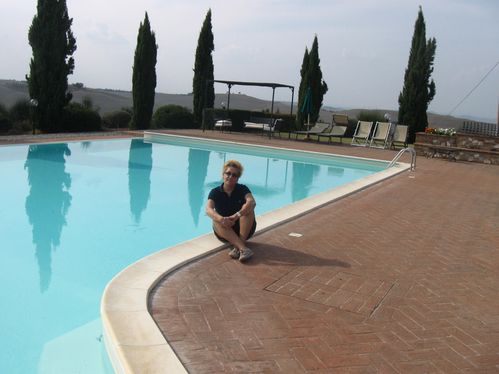 Gloria - Traquanda (Siena ) 24 Sept.2011