6 giugno 2011
1
06
/

06
/

giugno
/

2011
18:18
Erano più di 25 anni che non prendevo parte ad un battesimo, un evento importante e dolcissimo e domenica 5 Giugno eccomi al battesimo di quella piccola cosa rotondetta , Andrea Nicole !, 7 mesi portati benissimo! ed è già abbastana interessata al tessuto del mio vestito..
For over 25 year I didn't attend any Bapitism an important sweet ceremony. Sunday June 5th here I am attending the one of little "round" sweet baby girl, Andrea Nicole, aged 7 months .. only!! She is already interested in fashion and fabrics ..
Il était 25 ans que ke n'attendait pas un Beptême et voilà Dimanche 5 Juin j'était ravie de fetêr cette petite Andrea Nicole de l'age de 7 mois! Elle est déjà bien intrressée à l'étoffe de ma robe..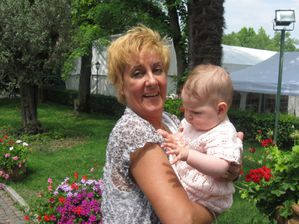 Dato che secondo la tradizione (probabilmente solo la mia!!) è importante che tutti i bimbi crescano con un amico d'infanzia , ecco il mio Teddy a cui ho voluto dare un nome semplice e simpatico, Totò accompagnato dal mio personale biglietto augurale con "ciuccetto " preso dai disegni di Ellen Maurer-Stroh e decorato .. a dovre.
According to the tradition (at least MINE!) it is important that all kids could have a forever friend , a Teddy bear . This one is named Toto' and is accompanied by my cross stitched card with a pacifier (design from Ellen Maurer Stroh) and decorated accordingly.
Selon la tradition ,la mienne au moins , tous les enfants devraient avoir un ami pour la vie, un ourson . Mon cadeau que j'ai nommé Totò est all* à Andrea Nicole avec la petite carte brodée selon un egrille de Ellen Maurer-Stroh et décoré pour la petite!