28 marzo 2011
1
28
/

03
/

marzo
/

2011
20:25
Ecco il nuovo libro che mi sono regalata : I Samplers ell'americana Anne Fields, popolati di personaggi e paesaggi un pò naif, dai colori vivaci , scene di vita quotidiana , accompagnati da sentenze e motti di una semplicità unica
Voilà le dernier livre dont je me suis fait cadeau! Les Samplers de l'americaine Anne Fields, populés par personnages et paysages un peu naif, de couleurs vivantes, des scènes de vie quotidienne , accompagnés par mottos et sentences de rare simplicité .
Here is the last embroidery book I bought myself ! American Anne Fields'samplers , populated by characters and landscapes somehow a bit naif , with brilliant colours, scenes from daily life and accompanied by mottos or sentences of rare semplicity.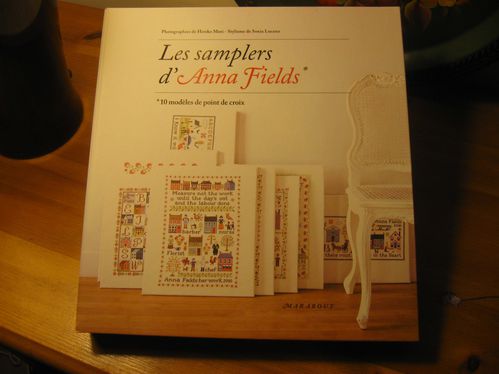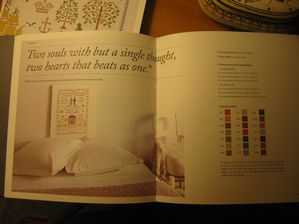 Il libro sulla destra con la foto del sampler , le spiegazioni , i colori e le misure .A sinistra , una pochette con 10 fogli uno per ciascuno dei samplers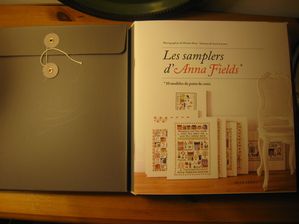 Le livre à droite avec la photo su sampler , les explications, les couleurs, les dimensions de la toile. A gauche une pochette avec 10 largepapiers avec un sampler chacun
The book on the right with the photo of the sampler, all explanations and details, threads to use and dimensions of the fabrics . On the left a pocket in which are contained 10 papers with the 10 samplers charts .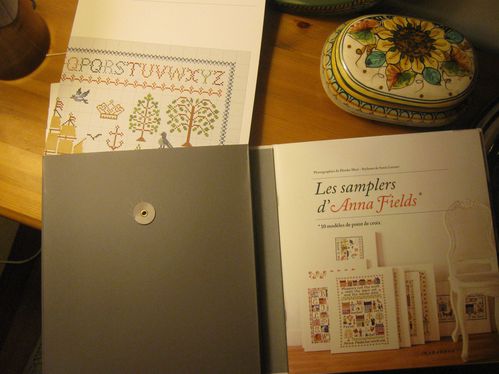 Alcuni schemi con le lettere da usare per i Samplers
Quelques alphabets à utiliser pour broder ces Samplers
Some alphabets to use for the Samplers included