11 febbraio 2011
5
11
/

02
/

febbraio
/

2011
11:23
Giochetto facile e simpatico da fare sul sito di Zabou che mette in palio 2 regali fatti a mano
1 dedicato alle blogghiste che vi partecipano e 1 per coloro che non hanno un blog :
Per chi ha il blog: occorre lasciare un commento sotto il post del gioco sul blog di Zabou , riportare il post sul proprio blog con qualche parola di commento e inserire un collegamento al sito di Zabou
per chi NON ha blog: lasciare un commento al post sul blog di Zabou ed iscriversi alla sua Newsletter. Molto semplice! L'estrrazione avviene il 21 Febbraio 2011. Ciao!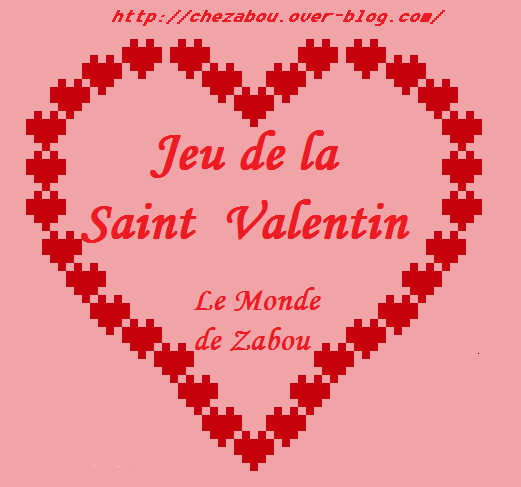 Géniale cette idée de célebrer St.Valentin avec un peti jeu tout simple et sympa! C0'est Zabou qui le propose ..
Il y aura 2 cadeaux fait à la main à vaincre : 1 pour une amie qui a un blog, 1 pour 1 amie qui n'a pas le blog .
Ceux qui ont le blog devraient aller chez Zabou , lassaer un com sur le post dédié au je et le re-proposer sur son blog avel le lien au blog de Zabou .
Ceux qui n'ont pas un blog , devraient laisser un com sous le post de Zabou et s'enregistrer à sa Newsletter .
Le tirage aura lieu le 21 Février 2011.Ciao!
Greta idea to celebrate Valentine's Day with a simple 6 nice little "game" . There will be two gift handmade to win : 1 dedicated to the blogger -winner , 1 dedicated to one of those of you who haven't got a blog .
If you have a blog, you can go on Zabou's blog , leave a comment under her post of Valentine and repropose it on your blog with her site address .
If you haven't got a blog, you can leave a comment under Zabou's post of Valentine and get registered to her Newsletter.
Easy, eh? Drawing will take place on february 21st, 2011.Ciao!