9 ottobre 2013
3
09
/

10
/

ottobre
/

2013
14:00
Fernando Botero a Parma ! un bravissimo artista pittore e scultore che amo molto con i suoi personaggi ridondanti e straboccanti ! a Parma , il Comune ha organizzato una mostra a lui dedicata all'interno del Palazzo del Governatore, in Piazza Garibaldi , dove sono in mostra svariate sculture in gesso bianco dell'artista oltre ovviamente a suoi quadri .
Già da qualche settimana, tuttavia, la città ospita in 2 punti del centro due sue splendide sculture bornzee che ho fotografato . troppo belle e troppo divertenti!
Se venite a parma , la mostra è aperta dal 3 aottobre all'8 Dicembre 2013 .
Per tutte le informazioni , visitate il link Botero a Parma
Fernando Botero in Parma! a talented painter and sculptor that I love very much for his redundant and overflowing characters !
In Parma, the City Council has organized an exhibition dedicated to him at the Governor's Palace, in Piazza Garibaldi, where various white plasters casts are shown as well as some of his paintings.

For some weeks ago , however, the city has been hosting 2 of his bronze sculptures in 2 city centre locations i took pictures of them : too good and too funny both !

If you pop here in Parma , the exhibition is open from October 3rd through December 8, 2013 .
For all information, visit the link Botero in Parma.
Fernando Botero à Parme! un peintre de talent et sculpteur que j'aime beaucoup avec ses personnages redondants et débordants! La mairie de Parme a organisé une exposition à lui consacrée dans le Palais du Gouverneur, dans la Place Garibaldi, où diverses sculptures en plâtre blanc sont exposées et bien sûr quelques unes de ses fameuses peintures.

Depuis quelques semaines, cependant, le centre ville est décorée avec 2 oeuvrages en bronze que j'ai photographiées. trop belles et trop drôles!

Si vous venez à Parme, l'exposition est ouverte du 3 Octobre au 8 Décembre 2013 .

Pour toute information, vous pouvez visiter le lien Botero à Parme
DONNA DISTESA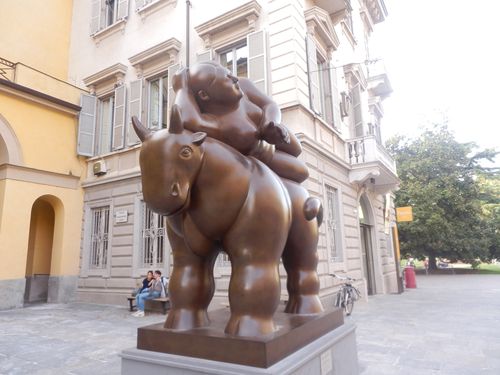 IL RATTO D'EUROPA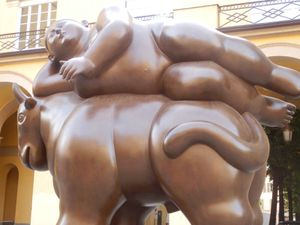 GESSO DELLA COLLEZIONE IN MOSTRA- Ballerina