3 aprile 2013
3
03
/

04
/

aprile
/

2013
11:05
Spero che abbiate passato bene il weekend pasquale, anche se il tempo non è stato da nessuna parte molto bello, anzi... Per quest'anno non ho fatto il Coniglio di pasqua e quindi non ho dovuto nascondere ai bambini le uova in giardino : lavoro divertente ma sempre da fare in orari strani per non essere visti!!
Quest'anno ho fatto solo qualche piccola decorazione , Pasqua è arrivata molto presto ed ero un pò assorta in altri lavori e lavoretti alcuni iniziati, alcuni finiti, alcuni continuati..
Hope you had a lovely Easter weekend surrounded by the family , friends and ...bunnies !!This year I didn't play the Easter Bunny as for many years: a nice "task" to accomplish but alway done in strange hours of the day to avoid children' eyes!!The weather hasn't been too nice, it rained most of the time .. This year I could only make some home decoration for Easter which was too early while I was starting, continuing and finishing other works and little works.. It will be for next year!!
J'espère que vous avez bien passé le week-end de Pâques!! Cet année je n'ai pas joué le role du Lapin de Pâques qui va cacher les ouefs dans le jardin , loin de regards des enfants pour qu'ils les decouvrent le Dimanche matin.. Le temps était très mauvais pendant le WE et seulement peu des heures avec un peu de soleil ou sans pluie .. J'ai fait quelques décorations pour la maison , mais très peu puisque le Paques est arrivé "haute" et j'avais un nombre des travaux et de petits travaux commencés , à continuer et à terminer, donc il sera pour la prochaine année .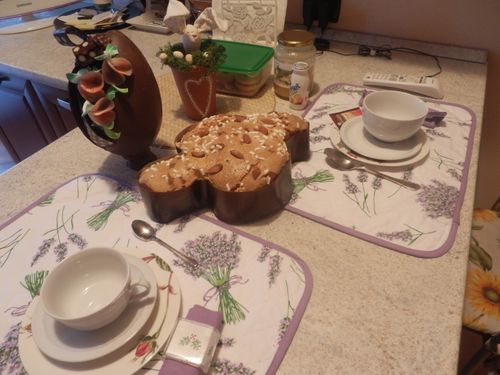 Colazione di pasqua per 2 -
Easter Breakfast for 2 : handmade Chocolate egg (with surprise in),
Easter sweet dove and Bunny watching us !-
Petit dejeuner de Pâques pour 2: L'oeuf de chocolat fait à la main et avec surprise , le gâteau de Pâques en forme de colombe et le petit lapin qui nous regard de son vase ..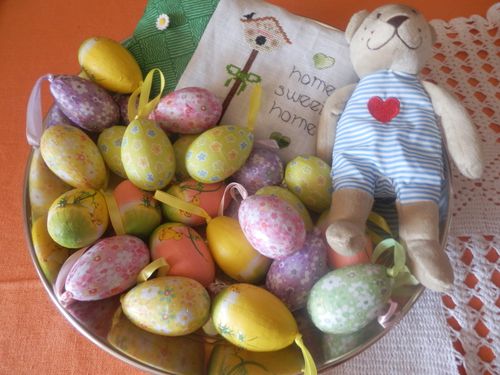 Un pò di uova di Pasqua, un pò di Primavera e la dolcezza di quest'orsetto per decorare il tavolo !
Some Easter eggs , a bit of Spring in a cushion and a bit of tenderness in the little teddy
un peu d'oeufs de Pâques , un peu de Printemps dans le coussinet et un peu de douceur dans
le petit ourson ...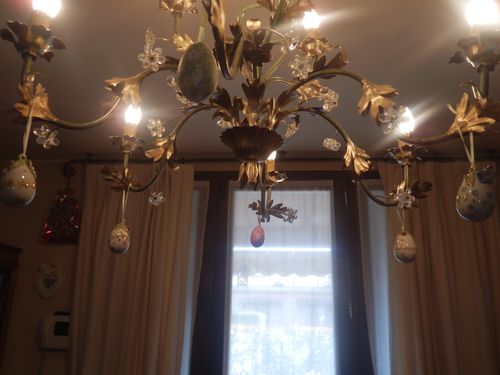 Un pò di Pasqua ...nell'aria -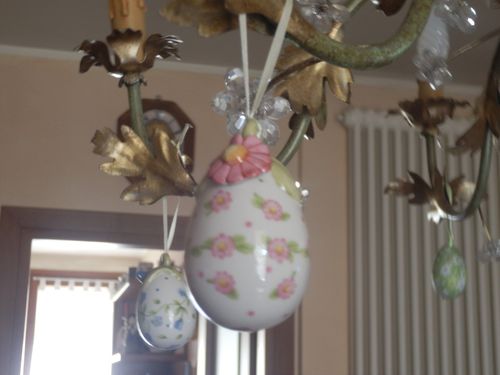 A bit of Easter .. in the air- Un peu de Pâques ...dans l'air