13 maggio 2011
5
13
/

05
/

maggio
/

2011
16:21
Maggio mese dei fiori, della Primavera, dell'amore, della tenerezza e la voglia anche di cambiare qualche piccola cosa in casa ...
May, month of the flowers , of Spring, of Love , of tenderness and month in which you feel to change something around you, at home..
Mai, le mois des fleurs, du Printemps, de l'Amour, de la tendresse , un mois pendant lequel vous sentex d'avoir envie de changer quelque chose autour de vous, dans votre maison...
E TANTI PICCOLE ATTENZIONI PER LA CASA A FORMA DI CUORE (I CUORI NON SONO MAI ABBASTANZA!)
Many little things at home and many hearts which are never enough!!
Beaucoup de petites attentions pour changer la maison , et des coeurs qui ne sont jamais assez!!
Portacandela in metallo a cuore
Metal candle heart-shaped holder
Candélabre en metal à forme de coeur
Decorazione a cuore bianco panna
Wall decoration with heart & birds
Décoration à mur à coeur avec petits oiseaux
Per appendere giornali e di tutto di più .. con il cuore!
To hang magazine, card and evrything you want with ...your heart
Pour mettre magazines, cartes et d'autre avec votre..coeur
Sistemare le piante con il cuore -
To place yr favourite plants with yr heart-
Arranger vos plantes avec coeurs
Foto, carte e ricordi dolcissimi?Qui!
photos, cards and sweet souvenirs ?Here!
Photos, cartes et souvenirs doux à garder? ici!
Specchiarvi in un cuore di tessuto a pois- Watch yoursel on a heart-shaped mirror covered by pinkdot polka fabric- Se regarder dans un joli miroir à coeur couvert avec du tissu pois rose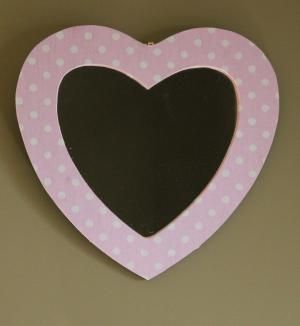 Dei bei sottobicchieri a cuore sono chic!
Nice heart-shaped coasters are chic.
***
Ces dessous-de-verre à forme de coeur sont très chic!
Cambiare qualcosa in casa in stile vintage?
To change something at home in Vintage style
Changer quelque chose à la maison en style Vinatage?
PER UNO STILE COUNTRY MOLTO TENERO PER LA CASA.....
For a very sweet country style for home...
Pour un style Country très tendre pour la maison ...
Un bel cuscino a fiori di feltro e pannolenci
A lovely flowers felt cushion ..
Un joli Coussin à fleurs en feutrine
o bianco in tessuto con fiori-or white fabric cushio and flowers
ou bien Coussin en tissu blanc et fleurs
PER CHI AMA LE ORTENSIE IN CASA E VUOLE CAMBIARE QUALCOSA..
For those who love Hydragea flowers and want to change something ..
Pour ceux qui aiment l' Hortensia and veulent changer quelque coins de leur maison...