2 novembre 2010
2
02
/

11
/

novembre
/

2010
11:50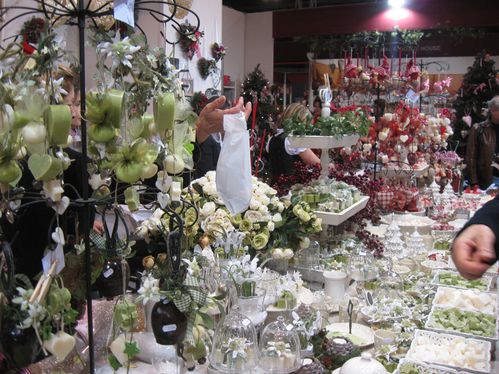 Vi ricordate di STILE NORDICO (www.stilenordico.it) , uno degli stands visitati durante
la Fiera Abilmente di Vicenza ? L'anno scorso avevo preso un bellissimo cuore in ceramica porcellanata bianca , quest'anno mi sono regalata una piccolissima campana di vetro, che vedete nelle foto sopra in primo piano e sotto cui mettere qualche buon raffinato cioccolatino , una mini torta , qualche buon pasticcino fatto in casa ....
Do yu remember STILE NORDICO , one of the stands attending Abilmente , the Fair of Vicenza? Last year I bought a lovely fine china white heart to hang , this year I found a lovel glass bell under which I could some fien chocolates or a tiny creamy cake or some homemade delicious biscuits, or..
Rappelez -vous de STILE NORDICO , un des stands présents à Vicenza pour la Foire Abilmente? et bien l'année passée j'avais acheté chez eux un joli coeur en porcelaine blanche à pendre , cette années une cloche en verre sous lequelle mettre et servir des chocolats , un tout petit gateau ou bien de la patisserie fait à la maison ...
*****
Ho aggiunto solamente un poco di passamaneria verde e oro e, ovvaimente i deliziosi Mon Chéri !
I only added some green and gold trimming around the plate and of course some lovely Mon Cheri chocolates !
J'ai ajouté seulement du galon vert et or pour une touche personnelle et naturellement des choclats Mon Cheri que j'adore!!