16 novembre 2010
2
16
/

11
/

novembre
/

2010
13:41
Ho pensato che qualche sfera di Natale in più non guasta e quelle che si hanno non sono mai abbastanza .Così eccovene altre quattro , due tipi in colori diversi . potete arricchirle con il filo GOLD di DMC o con uno degli altri fili metallici colorati di DMC a seconda dei colori che usate per al sfera.
J'ai pensé qu'on a jamais assez de boules de Noël et donc je vous offre 4 , dont 2 d'un type et 2 de l'autre avec des couleurs différantes . On peut les enrichir avec le fil OR de DMC ou bien avec les autres couleurs métalliques de DMS selon les couleurs utilisées pour broder les boules .
I thought that we have never got enough Xmas tree balls to embroider and therefore here are some 4 more , 2 for each of 2 types in different colours . You can decorate them also just passing the DMC GoLD thread from one side to another one of each ball and they will be more brilliant!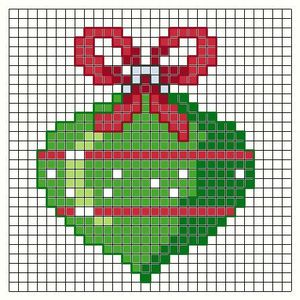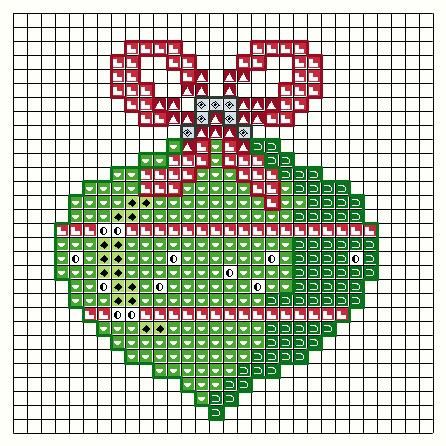 Title: SFERE DI NATALE
Author: Eze
Grid Size: 30W x 30H
Design Area: 4,17 cm x 4,90 cm (23 x 27 stitches)
Legend: Stitches
" DMC White white
$ DMC 700 christmas green - br
# DMC 702 kelly green
Q DMC 704 chartreuse - br
% DMC 321 christmas red
' DMC 3753 antique blue - ul vy
( DMC 816 garnet
Legend: BackStitch Lines
DMC 700 christmas green - br
DMC 816 garnet
DMC 844 beaver gray - ul dk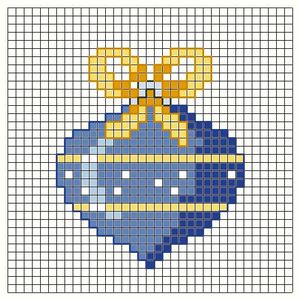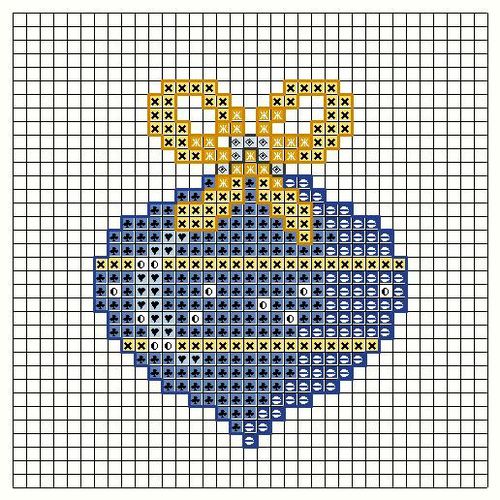 Title: SFERE DI NATALE
Author: Eze
Grid Size: 35W x 35H
Design Area: 4,17 cm x 4,90 cm (23 x 27 stitches)
Legend: Stitches
" DMC White white
' DMC 3753 antique blue - ul vy
) DMC 726 topaz -lt
* DMC 799 delft blue - md
+ DMC 800 delft blue - pl
- DMC 797 royal blue
/ DMC 783 topaz - md
Legend: BackStitch Lines
DMC 797 royal blue
DMC 844 beaver gray - ul dk
DMC 782 topaz - dk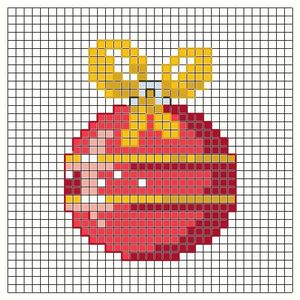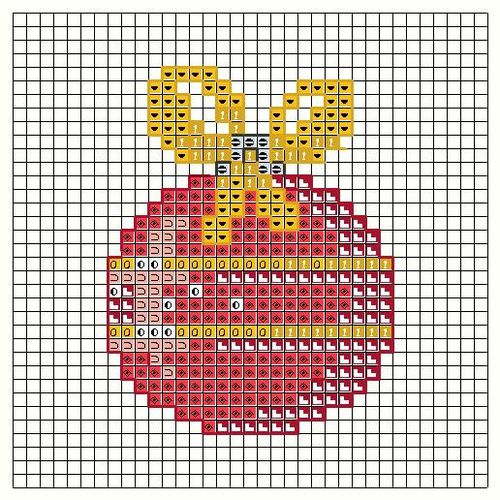 Title: SFERE DI NATALE 5
Author: EZE
Grid Size: 35W x 35H
Design Area: 3,81 cm x 4,90 cm (21 x 27 stitches)
Legend: Stitches
"DMC White white
#DMC 972 canary - dp
$ 353 peach
% DMC 498 christmas red - dk
'DMC 3801 christmas red - lt
- DMC 3753 antique blue - ul vy
0DMC 972 canary - dp
1 DMC 3852 straw - vy dk
Legend: BackStitch Lines
DMC 498 christmas red - dk
DMC 815 garnet - md
DMC 844 beaver gray - ul dk
DMC 3852 straw - vy dk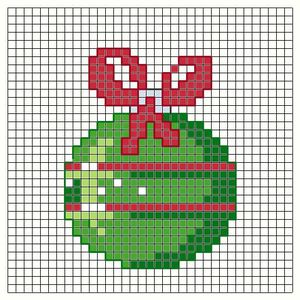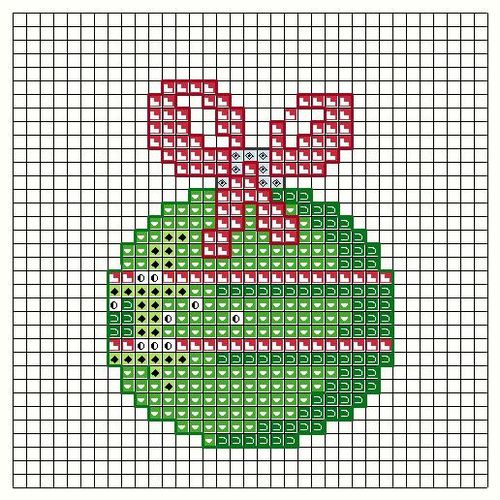 Title: SFERE DI NATALE -4
Author: EZE
Grid Size: 35W x 35H
Design Area: 3,81 cm x 4,90 cm (21 x 27 stitches)
Legend: Stitches
" DMC White white
$ DMC 700 christmas green - br
# DMC 702 kelly green
Q DMC 704 chartreuse - br
% DMC 321 christmas red
'DMC 3753 antique blue - ul vy
Legend: BackStitch Lines
DMC 700 christmas green - br
DMC 816 garnet
DMC 844 beaver gray - ul dk