28 ottobre 2013
1
28
/

10
/

ottobre
/

2013
17:18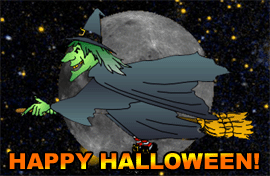 Non sono particolarmente affezionata a questa festa se non per il fatto che è in autunno dove tanti fra
i miei colori preferiti si mescolano per dare colpi d'occhio favolosi e poi anche per il fatto che la ZUCCA mi è molto simpatica come ortaggio e per la sua duttilità nelle decorazioni della casa ,soprattutto per l'esterno . Poi, dato non trascurabile la zucca ha uno dei miei colori preferiti: arancio!
Halloween anche negli ATC , come questo(scambio ATC organizzato da Coyote/Sanbtrode), con il quale celebro il mio primo anno di ATC!!
I am not particularly fond of the Halloween celebration (it's a bit out of our traditions) but nontheless I find it a nice feast for kids to enjoy and an excellent way to decorate part of home, specially outdoors .Pumpkins are too nice also to have 1 or 2 at least out of your front door to welcome your friends!
The ATC of Halloween below (ATC exchange organized by Coyote/Sanbrode) is celebrating my first year of ATC cards!
Je ne suis pas la plus fameuse pour célébrer Halloween mais je trouve la citrouille en particulier trop jolie pour ne pas garder une dans son jardin ou bien sur sa terrasse pour donner le bienvenue aux amis! Sa couleur est l'une de mes préférées , orange !
Je célébrae donc Halloween avec mon ATC à sujet ci-dessous (èchange organisé par Coyote/Sanbrode) et aussi ma première année d'ATC (1er ATC en Novembre 2012!)