2 dicembre 2014
2
02
/

12
/

dicembre
/

2014
11:49
Famiglia /Family/Famille : CHELIDAE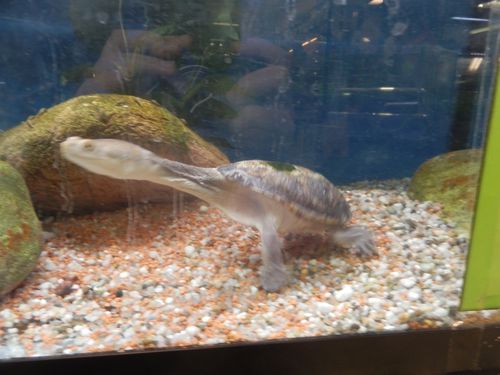 (Photo/Gloria)
Non è così semplice vedere da vicino dentro una vasca d'acqua questa Tartaruga a collo di serpente ed è assolutamente straordinaria vederla in vendita in un negozio di anumali!. La lunghezza del carapace arriva ad oltre 25 cm alla quale si aggiunge una lunghezza di collo sproporzionata del collo che normalmente gli serve per respirare rimanendo sommerso e lasciando emergere sul pelo dell'acqua il capo o solo le narici. Appena ho visto la testa e come vedete nelle foto, la sagoma è più quella di un serpente che di una tartaruga , forse per questo fa parte della Classe dei Rettili.
Vive principalmente nell'Australia orientale e meridionale , in fiumi (Murray River ), laghi , stagni ma spesso la si trova anche sulla terra ferma ( a prendere il sole?). Si nutre di crostacei, girini e piccolissimi pesci e rane , ma anche di insetti acquatici . La femmina arriva a produrre 10-20 uova l per 2-3 volte l'anno , uova che deposita sul fondo sabbioso .
Altra cosa: non c'è posto per tutto il collo e la testa nel carapace , perciò la tartaruga avvolge il collo e la testa all'esterno del carapace come vedete in una foto presa da Internet !- Strana eh?
It's not easy to see and so close , in a water tank, this type of Turtle , the long-neck turtle ,and it is absolutely extraordinary to see that it can be bought in a pet shop! . Its carapace , dark colour, can be over 25 cm long while the turtle neck can be mostl of times double the lengh of the carapace.The long neck helsp the turtle to breath when it is submerged leaving out its head or the nostrils. When I saw its head I had the impression it could be more a snacke than a turtle ! This turtle lives more in eastern and southern Australia , in rivers (Murray River), lakes,ponds but also in mainland (does it want to get tanned?!?). Its nutritional system is mainly based on crostaceans , tadpoles, acquatic insects , frogs,..The female turtle can produce 10-20 eggs 2-3 times a year placing them on a sandy bottom. One more detail : since the turtle has got no place for the neck and the head inside the carapace , it wraps them outside the carpace as you cansee in a photo I had from Internet . Quite strange, isn't it?
Ce n'est pas si facile de voir et si proche ce type de Tortue, la Tortue à long cou! il est extraordinaire de la voir dans un magazine d'animaux . Son carapace , couleur foncée, ets environ long 25 cm mais le cou très souvent est beaucoup plus long que le carapace! Le cou si long est utile à la tortue pour rester immergée dans l'eau en laissant seulement sa tête sur la surface de l'eau ou bien seulement avec ses narines.Comme j'ai vu sa tête je croyais qu'il s'agissait d'un serpent , regardez sa figure ! cette tortue vit normalement en Australie orientale et australe , dans les rivières (Murray River) ou bien dans les lacs , les étangs mais souvent aussi sur le continent ... probablement pour prendreun peu de soleil et se bronzer...Ella se nourrit de crustacés, de mollusques, de ttards, de grenouilles et aussi d'insectes aquatiques. La femelle peut produire 10-20 oeufs pour 2-3 fois par année , en les déposant sur un fond sablé.Un autre petit détail: puisque la trotue ne peut pas mettre tout son cou et sa tete dans le carapace , elle les garde dehors tout autour au carapace comme de la photo que j'ai trouvé sur Internet . Drole, n'est-ce pas?
(Photo/Gloria)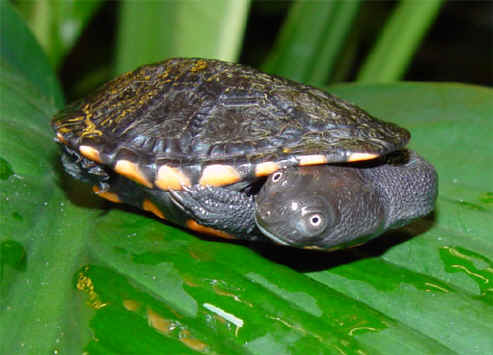 (Photo/Internet)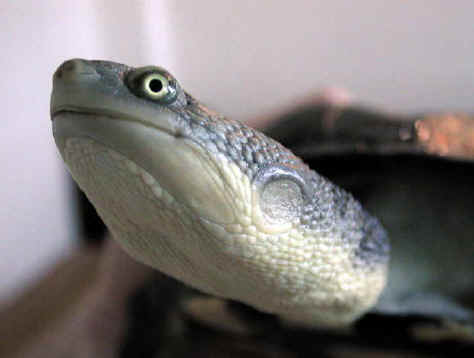 (Photo Internet)