30 gennaio 2012
1
30
/

01
/

gennaio
/

2012
14:52
Una domenica ventosa e piuttosto fredda mi ha invogliata a stare in casa e mettere in ordine le mie cosette per ricamare , decorare ecc.. La scelta è caduta su nastri e passamanerie e, non so voi, ma io ne ho per il resto dei miei giorni! e proprio il giorno prima, al mercato , avevo comprato altri 20 euro di nastri in raso colorati..
Così mi sono decisa a fare le ben note cartonnette , quelle piccole cose che decorandole come si conviene sostituiscono le stesse in fredda plastica oppure il "classico" pezzo di cartoncino su cui arrotolare il nastro.
Dal sito di Echevette e di Au boudoir dans un tiroir soprattutto ho ripreso la sagoma gentilmente già decorate con stampe vittoriane , ritagliate , incollate ed ecco i primi risultati ..
A windy cold Sunday made me feel more stimulated to work at home and put order in my embroidery staff . I though it could have been a good idea to little by little find a place for ribbons, trimmings, laces .. . Therefore I foudn on Echevette and Au boudoir dans un tiroir's sites above all site some lovely cartonnette patterns already decorated with victorian prints and after an easy work of cutting, profiling , glueing here are my first results ...
Un Dimanche avec un vent froid m'a stimulait à rester à la maison et mettre un peu d'rodre dans mes choses de broderie, surtout dans les secteur rubans . J'ai trouvé sur le site de Echevette et de Au Boudoir dans un tirir surtout le patron pour faire des cartonnettes mais aussi de cartonnettes déjà décorées avec des dessins victoriens et aprés une opération très facile de couper et coller , voilà les premiers résultats ..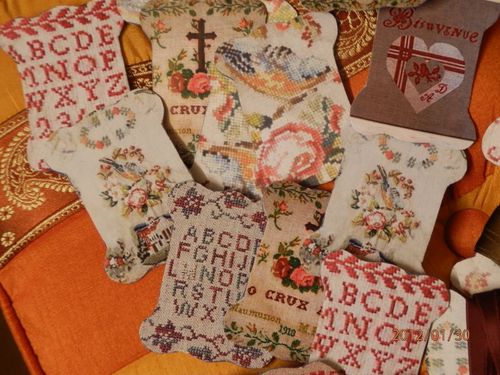 Ho ancora 200-300 e più cartonnettes da fare se voglio fare ordine! I still have 200-300 and more cartonnettes to do if I want to arrange everything !J'ai encore 200-300 et plus cartonnettes à faire si je veux compléter mon travail!!