23 dicembre 2009
3
23
/

12
/

dicembre
/

2009
12:00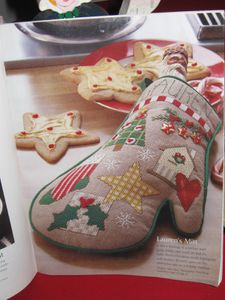 Da questo splendido guanto da forno per Natale , trovato su una rivista americana , ecco il mio lavoretto qui sotto.
Voilà la photo d'un gant à four pour Noel, dont le gabarit et la grille pour le broder vient d'une jolie revue amèricaine . Et ci-dessous le travail que MOI, j'ai fait ...
I took the project of this over mitten from a nice US craft magazine et here is below the result of my work...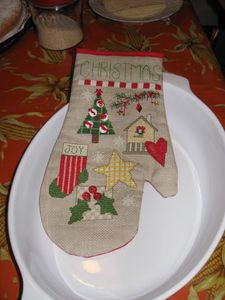 Abbastanza impegnativo, sì, specie su una tela AIDA di questo colore con la trama piuttosto... sfuggevole! I disegni sono piuttosto semplici ma sono arricchiti con ciondoli e bottoncini colorati
Le travail est assez important , oui, particulièrement parce que fait sur toile AIDA Moka , où ce n'est pas difficle à se tromper! Les dessins sont simples mais enrichis par des boutons et pendants.
The work is rather important mainly because I had to embroider on this type of AIDA fabric, Moka light colour , on which is not that hard to get mistaken!, The designs are simple but enriched with buttons and charms.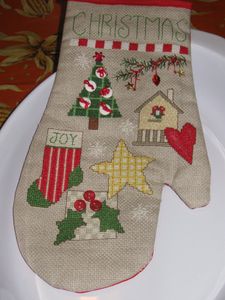 Per quanto sia imbottito ed abbia tutti i crismi per essere da forno, vista la presenza di bottoni e decorazioni , sconsiglio di metterlo nel forno. Piuttosto è di grande effetto servirvi a tavola i piatti da portata caldi !!
Meme s'il est rembourré et il est , sous tous les points de vue un gant à four, en considération du fait qu'il y a des boutons , décorations synthetiques , il vaudrait mieux de le mettre dans le four . Plutot utilisez-le pour servire à la table!
Even if the mitten has got an appropriate filling and is an oven mitten , I would suggest to avoid to put it in the oven in considetarion of the presence of buttons and charms which could get damaged. You can use it to serve at table and have a woendeful cooking performance before your guests!