23 marzo 2011
3
23
/

03
/

marzo
/

2011
15:53
Eccoci alla Lettera "Q" dell'Alfabeto floreale . Ho rallentato un pò ultimamente
ma spero di finire quanto prima gli schemi .Ci vediamo alla "R"!!
Here is the Letter "Q" of the Floral Alphabet . I know I was a bit slow in releasing the letters but I hope to finish the alphabet soonest. See you at Letter "R" !
Voilà la Lettre "Q" de l'Alphabet Floral . Je sais que j'ai un peu rallenti la sequence mais j'espère de la terminer bientôt . Rendez-vous à la Lettre "R" !!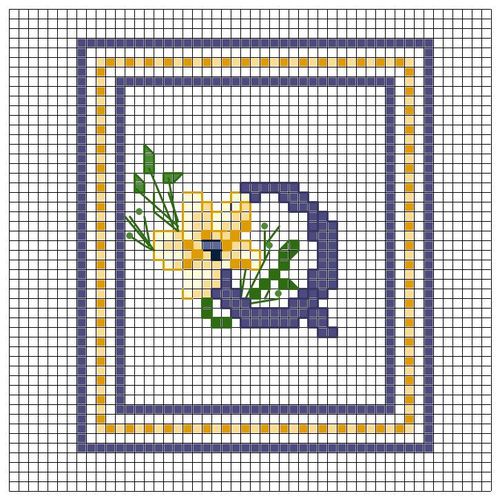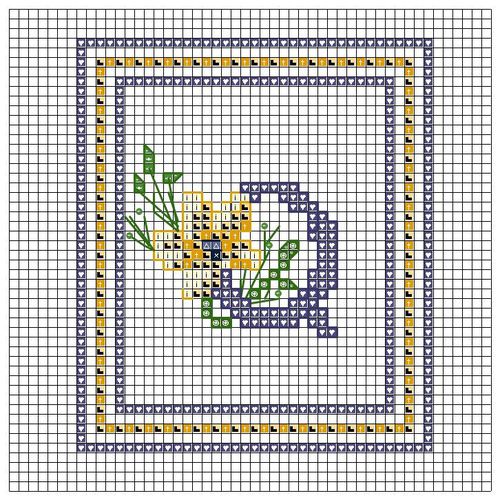 Title: Alfabeto Floreale -Lettera Q
Author: Eze
Grid Size: 50W x 50H
Design Area: 6,71 cm x 7,80 cm (37 x 43 stitches)
Legend: Stitches
: DMC 3345 hunter green - dk
D DMC 3346 hunter green
+ DMC 792 cornflower blue - dk
i DMC 3823 yellow - ul pl
% DMC 3855 autumn gold - lt
x DMC 823 navy blue - dk
I DMC 161 gray blue
t DMC 783 topaz - md
Legend: FrenchKnots
DMC 3346 hunter green
Legend: BackStitch Lines
DMC 3345 hunter green - dk
DMC 791 cornflower blue - vy dk
DMC 823 navy blue - dk
DMC 783 topaz - md